As trends for the Jharkhand assembly elections showed the Congress-Jharkhand Mukti Morcha alliance ahead of the ruling Bharatiya Janata Party, the Nationalist Congress Party on Monday said people of Jharkhand have demolished the "arrogance" of Prime Minister Narendra Modi and the saffron party president Amit Shah.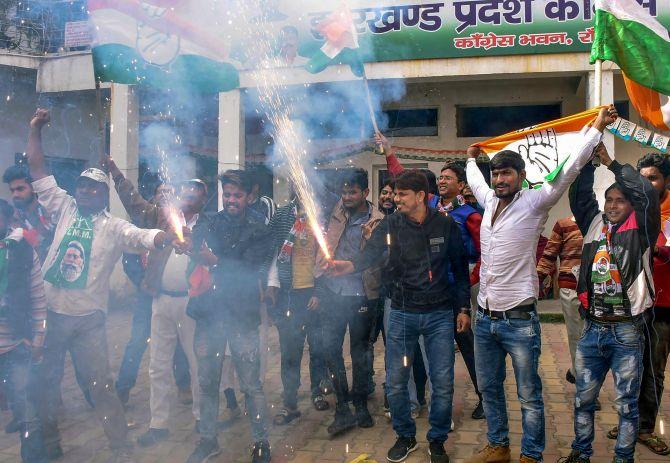 "The people of Jharkhand have demolished the arrogance of Modi ji, Amit Shah and BJP. Democracy has won," NCP chief spokesperson Nawab Malik tweeted.
The Shiv Sena also hit out at the BJP, with which it recently severed ties at the Centre and in Maharashtra, saying the Jharkhand assembly poll trends show people are not buying the Amit Shah-led party's politics based on sentimental issues like the National Register of Citizens.
Shiv Sena spokesperson Manisha Kayande said as the BJP looks set to lose Jharkhand after failing to retain power in Maharashtra, it raises question whether people are now trusting the Amit Shah-led party or not.
"They (BJP) earlier told people they will play politics of development, but are now engaging people in
sentimental issues to distract their attention from the real issues... They seem to have been hit by raising of issues like the National Register of Citizens," Kayande said.
As per trends available for the Jharkhand Assembly polls till noon, the JMM-Congress-RJD opposition alliance was leading in 42 out of the total 81 seats in the state assembly.
Elections were held in Jharkhand over five phases between November 30 and December 20.
Congratulating Jharkhand Mukti Morcha leader Hemant Soren on the latest Jharkhand poll trends, which showed that the opposition coalition led by his party was ahead of the BJP, West Bengal Chief Minister Mamata Banerjee on Monday said people have faith he would fulfil their aspirations.
Banerjee also said that elections were held amid protests over amended citizenship law and proposed countrywide National Register of Citizens, and extended good wishes to the "brothers and sisters" of the neighbouring state for voting in favour of the JMM-Congress-RJD alliance.
"Congratulations @HemantSorenJMM ji, @RJDforIndia, @INCJharkhand on winning. People of Jharkhand have entrusted U to fulfill their aspirations. My good wishes to all brothers/sisters in Jharkhand. Elections were held during #CAA_NRC_Protest. This is a verdict in favour of citizens," she tweeted.