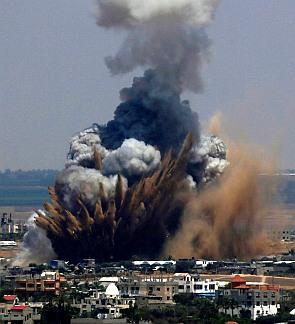 Israeli jets on Saturday pounded over 30 Hamas targets in Gaza, killing five Palestinians, as rocket fire into Israel continued with the month-long conflict that has claimed about 2,000 lives flaring up again after the end of a three-day truce.
The Israeli military said it struck 33 sites in Gaza early this morning, while five rockets hit southern Israel.
Five Palestinians were killed, including three whose bodies were pulled from the wreckage of a mosque, Gaza health officials said.
Over 1,960 people have died since violence erupted in Gaza in early July. More than 1,900 Palestinians, mostly civilians, have been killed. Sixty-seven people have died on the Israeli side, including three civilians.
Israel renewed strikes on Gaza soon after the ceasefire lapsed, saying it was in response to rocket fire by Hamas, which controls Gaza.
Residents of southern Israel awoke up early morning to the piercing sound of code red rocket alerts, as a barrage of rockets from Gaza targeted their neighborhoods.
Militants in the Strip renewed fire just before 7:00 am (local time) as sirens blared throughout communities in the Sha'ar Hanegev Regional Council in the northwestern Negev, and in the Eshkol region, which borders Gaza.
Following through on his promise to respond with force against any renewed hostilities by Hamas, Prime Minister Binyamin Netanyahu ordered the Israli air force to strike targets in the Strip, as Operation Protective Edge entered its 33nd day -- the second day since a failure to extend an Egyptian-mediated truce.
The air force struck multiple targets, including a rocket launching pad situated by a mosque, an Islamic Jihad training base and a house used as a Hamas command center.
The United States and United Nations have condemned the resumption of violence between Israel and Palestinian militant groups after the end of the temporary truce on Friday.

Image: Smoke is seen after an Israeli air strike in Gaza