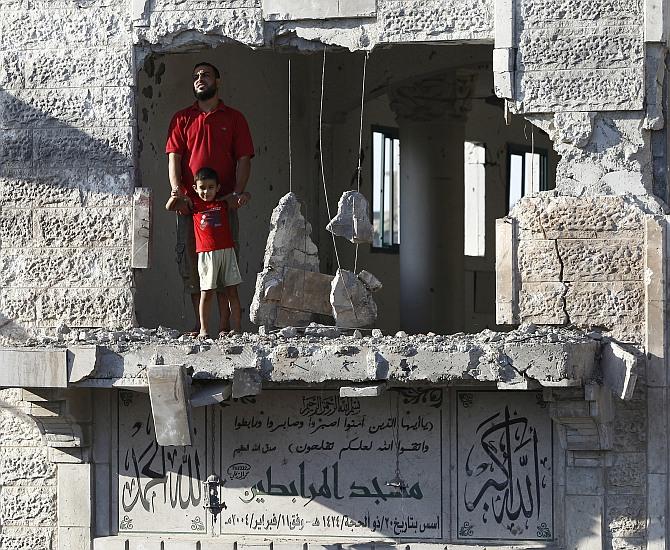 Palestinian and Israeli negotiators in Cairo are scrambling to brokers a long-term truce in war-torn Gaza as the three-day ceasefire entered its last few hours with no breakthrough yet.
The clock was ticking on the 72-hour ceasefire between Israel and Hamas that has brought relief to millions on both sides after a month of fighting killed nearly 1,900 Palestinians and 67 people in Israel, mostly soldiers.
Egyptian officials, who brokered the truce that began on Tuesday, were working against the clock on Thursday to persuade both sides to agree a long-term deal.
"Indirect talks are ongoing and we still have today to secure this," an Egyptian official said when asked whether the truce was likely to be extended beyond 0500 GMT on Friday.
"Egypt's aims are to stabilise and extend the truce with the agreement of both sides and to begin negotiations towards a permanent agreement to cease fire and ease border restrictions," he said, according to the BBC.

Israel has agreed to extend a ceasefire that ended a month of fighting in Gaza beyond a Friday deadline, an Israeli official said
"Israel accepted an unconditional 72-hour cease fire, and is willing to extend an unconditional cease-fire," the official was quoted as saying by Jerusalem Post.
Israeli officials said the country has offered to extend the three-day ceasefire in Gaza which began on Tuesday.
But Hamas deputy leader Mussa Abu Marzuq, part of the Palestinian delegation taking part in Egypt-mediated talks in Cairo, denied that there was yet any agreement on the extension of the ceasefire.
"There is no agreement to extend the ceasefire," he wrote on Twitter.
"Any news about the extension of the truce is unfounded," Hamas spokesman Sami Abu Zuhri said.
Hamas also warned it would resume its attacks on Israel unless Jerusalem accepts all Palestinian demands, first and foremost being the lifting of the siege and release of prisoners who were rearrested in the West Bank.

Hamas official Izzat al-Risheq said, "We haven't received a reply to our demands. Our fingers are still on the trigger."

Hamas also held its first public rally since a cease-fire with Israel and vowed to never give up its arms and continue to fight for the lifting of the blockade of Gaza.

"We are ready to return to the battle if the Palestinian demands are not met in Cairo," Hamas spokesman Mosher al-Masry told a crowd of supporters waving the group's green flags.
The main Israeli demand for a long-term agreement is the demilitarisation of Gaza. That is highly unlikely to be accepted by Hamas, which considers itself a resistance movement and refuses to lay down its arms, the BBC said.
Hamas and the other Palestinian factions are meanwhile demanding an end to the blockade of Gaza and the freeing of prisoners released in exchange for Gilad Shalit in 2011 who were recently re-arrested. So far, there has been no response from the Israelis.

Image: A man with his son look through the destroyed building of a mosque in the Shejaia neighbourhood in Gaza City.
Photograph: Siegfried Modola/Reuters