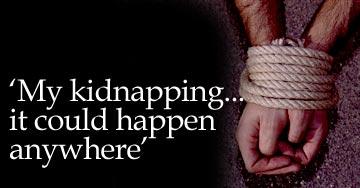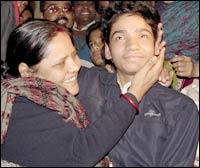 Kislay Kaushal symbolises everything that is wrong with Bihar and a few things that are right. The Class IX student of Patna's prestigious Delhi Public School returned home on Wednesday morning after spending nine days in the captivity of his abductors.

His abduction triggered a wave of protests by school students in Patna and other parts of the state. His return has sparked a war of words between Lalu Prasad Yadav's ruling Rashtriya Janata Dal and the Opposition Lok Janshakti Party led by Ramvilas Paswan.

But at his Patel Nagar home, surrounded by relieved parents and close relatives, Kislay spoke to rediff.com's Contributing Correspondent Anand Mohan Sahay after a breakfast of vegetarian delicacies lovingly cooked by his mother.
Can you tell us who were the people behind your kidnapping?
How do I know? They always had their faces covered either with a gamcha (scarf). But they spoke normal Hindi. It was difficult to guess who these people were. But the police rescued me from their clutches.
What was their behaviour like? Did they treat you well? Were you tortured?
They behaved well. They provided me food -- veg or non veg according to my demands and availability. But on occasions they behaved differently, especially when I repeatedly asked them as to why they had kidnapped me. They would says 'don't ask silly questions.' But they never said they would kill me or harm me.
Are you afraid to go to school now?
I will certainly go to school. There is nothing to fear. I am well and happy to be back home with my family -- my father, mother, sister and other relatives. I am totally relaxed now.
Earlier report: School students go hungry in Patna

You are not frightened at all?
No, not at all. What is there to be frightened? I will start playing cricket in a day or two outside my house as I used to earlier.

Weren't you frightened when you were abducted?

For two to three days I was really frightened, but after that I was relaxed. It was normal life. But they kept a watch on me and I was not allowed to step out anywhere.
After your kidnapping some Opposition leaders announced that Patna is not a safe place, particularly for students.
I will not leave Patna, who said it is unsafe. It is my forefathers' land. It is wrong to project Bihar as a dangerous place. My kidnapping was an accident, it could happen anywhere.
Earlier report: Vajpayee calls for release of abducted student

In the past couple of weeks your name has been everywhere. President A P J Abdul Kalam, former prime minister Atal Bihari Vajpayee, former deputy prime minister L K Advani and Lalu Prasad Yadav -- they all sought your safe release from the custody of your kidnappers. Hundreds of students were out on the streets protesting.
I have heard about it. I am thankful to all of them.
What are your plans for the future? Any dreams?
Yes, I have plans and dreams like any other child. I want to become an engineer and serve my country.
Image: Rahil Shaikh