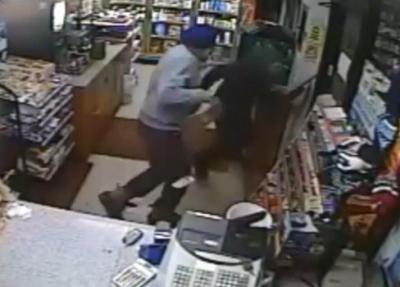 A 58-year-old Indian-American Sikh store owner bravely fought off a gun-wielding masked assailant by using his slipper, thwarting an attempted robbery in New York in the United States.
Amrik Singh, who managed to save his hard-earned money from the would-be robber, had a narrow escape in the fight as the assailant opened fire at him but the bullet missed him.
"I tell you honestly, I'm not scared," Singh was quoted as saying by abc7ny.com on Friday.
There is dramatic surveillance video from Monday night, when the masked gunman tried to rob Singh's gas station convenience store in Salt Point in DutchessCounty.
The suspect handed the store owner a bag and Singh began filling it with cash from the register. There was a scuffle when the gunman demanded the larger bills he thinks are under the tray.
"He said 'Put the $100 bill, and I said I don't have a $100 bill," Singh said.
Things took almost a comic turn when Singh flung a slipper at the suspect, hitting him near the face. Then Singh rushed the gunman and forced him out of the store, it reported.
An outside camera showed him chasing the gunman as the suspect fired the weapon. The video was uploaded on You Tube.
"I fell down, he didn't get me, but he did shoot it outside in the parking lot," Singh said.
The blast left a hole in the ground. Singh suffered a scraped nose and experienced chest pain, but was not seriously hurt.
Singh has owned Route 9 Mini Mart in Staatsburg for 17 years, and has been robbed once before. This time he fought back. He said he couldn't get a good look at the suspect, but did manage to grab his mask.
The New York state police are hoping the video will generate leads.