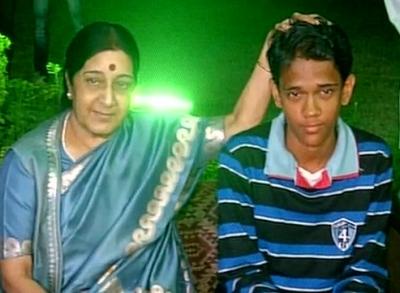 After the return of Geeta, a deaf and mute girl to India from Pakistan last month, the Centre has initiated the process for repatriation of a youth from Aligarh in Uttar Pradesh, stuck in the neighbouring country.
External Affairs Minister Sushma Swaraj, who met Geeta at an institute for hearing and speech impaired people here, said the process to verify information related to the UP youth was on and if all the facts were found to be correct, he would be brought back to India.
"I am moving ahead on the Salman issue. His family stays in Aligarh. I have asked officials to verify the facts related to his case. If all the facts are found to be correct, Salman will be granted visa and will be brought back to India," she told media persons.
The Union minister added, "Salman is eager to return to India. He says when he was a child, his mother had left him with her parents in Pakistan. According to him, his maternal parents have passed away and now there is nobody to look after him there. We are trying to verify all these things."
On Sunday, Sushma met Pakistani boy Mohammad Ramzan, 15, who has been stranded in Bhopal since the last two years.
Talking about his case, she said, "We don't have any problem in sending Ramzan to Pakistan. Now it is up to Pakistan to decide whether he is their citizen or not.
"If Pakistan accepts that Ramzan is their citizen, we will extend all possible help from our side for his return," she said. Ramzan's story is similar to Geeta, who was reportedly
just seven or eight years old when she was found sitting alone on the Samjhauta Express by the Pakistan Rangers 15 years ago at the Lahore railway station.
Geeta was adopted by Edhi Foundation's Bilquis Edhi and lived with her in Karachi. She returned to India on October 26.
Ramzan is currently staying at a shelter home 'Umeed' run by non-governmental organisation 'Aarambh' in Bhopal.
Ramzan's ordeal started when his father Mohammad Kazol divorced his mother Begum Razia in 2009. After getting custody of Ramzan, Kazol moved to Bangladesh from Pakistan along with Ramzan and got married there again. However, fed up with the ill-treatment by his step-mother, Ramzan ran away from Bangladesh and crossed the border.
The run-away boy landed in Ranchi and after wandering in Mumbai and New Delhi, reached Bhopal station where the police caught him and handed him over to 'Umeed'.
Image: External Affairs Minister Sushma Swaraj with Ramzan