A G20 dinner invitation from President Droupadi Murmu describing her as 'President of Bharat' created a buzz on social media on Tuesday with many debating if India's name should be changed to Bharat, some using humour to put their point across and others serious.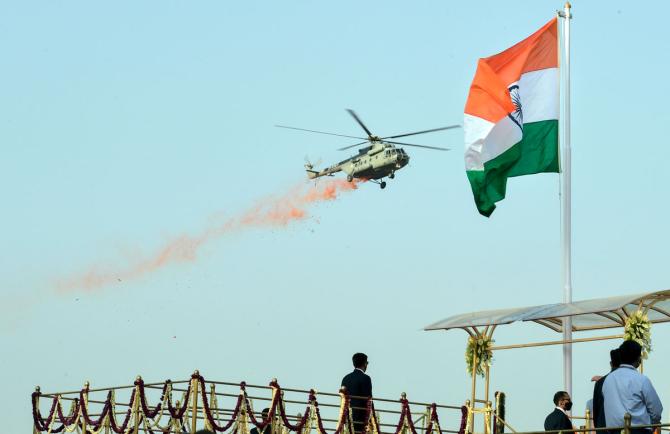 Users jocularly wondered if the name of institutions such as the Indian Space Research Organisation, the Reserve Bank of India and the Board of Control for Cricket in India will be changed.
The lyrics Bharat Kaa Rahane Waalaa Hoon, Bharat Kee Baat Sunaataa Hoon a popular song from Manoj Kumar starrer Purab Aur Paschim also trended on X with the hashtag "Bharat" (in Hindi and English).
"Toughest think to do ISRO to BISRO," a user on X said, while others put out lists of what the abbreviations of names of institutes having India or Indian in them would look like -- "IIM-BIM, IIT-BIT, IISc-BISc, AIIMS-ABIMS, RBI-RBB".
"New abbreviation of BCCI would be Bharat Controlling Cricket Internationally," posted another user in lighter vein.
Velina Tchakarova, a geopolitical strategist, posted on X, "The new abbreviation of BRICS, if India renames itself Bharat and the invited countries (Argentina, Egypt, Ethiopia, Iran, Saudi Arabia and UAE) join it next year, will be BARBIECUES."
On whether the country's name should be changed, those for Bharat posted on X -- "Bharat.. the original one", memes showing people celebrating or just the word "Bharat".
"Bharat is already in Constitution there's no need for this" and "There is no need for any referendum. Bharat is already mentioned in the constitution... 'India, that is Bharat', were among the posts that against a name change.
Former cricketer Virender Sehwag posted on X, "I have always believed a name should be one which instills pride in us. We are Bhartiyas, India is a name given by the British & it has been long overdue to get our original name 'Bharat' back officially. I urge the @BCCI @JayShah to ensure that this World Cup our players have Bharat on our chest"
Some airlines also found themselves caught in many humorous takes with users on X saying "Does this mean Air India will be renamed to Air Bharat and Indigo to BharatGo? and "since India is renamed as Bharat Indigo will now be called -- BHAAGO (written on a meme)".
Mentioning actor Dadasaheb Phalke recipient actor Manoj Kumar, popularly called 'Bharat Kumar, columnist and author Suhel Seth posted on X, "Apart from everything, I am feeling so so happy for Manoj Kumar. AKA Bharat."
"Aaj Manoj Kumar (Bharat Kumar) bahut khush honge (today Manoj Kumar will be very happy)," another user said.
The dinner invitation triggered massive debate in political circles, with the opposition alleging that the government is planning to drop India and stay with just Bharat as the country's name.
Lending credence to the speculation, Union Minister Dharmendra Pradhan shared on X the G20 dinner invitation from the president for Saturday at Bharat Mandapam, the venue for the G20 summit of world leaders.
Sharing a picture of his invite, Pradhan used the hashtag '#PresidentOfBharat' and said, "Jana Gana Mana Adhinayak Jaya He, Bharat Bhagya Vidhata".