Kashmir is reeling from a heat wave after the valley earlier this week witnessed the second-hottest September day in recorded history, causing hardships to locals and tourists alike.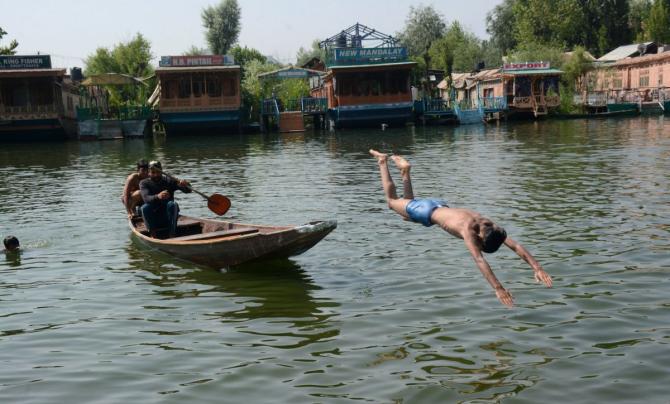 On Tuesday, Srinagar recorded a maximum temperature of 34.2 degrees Celsius, six degrees above normal, the met office (Srinagar) deputy director Mukhtar Ahmed told PTI.
He said it was the second-highest maximum temperature ever recorded in September since 1891, when the weather observatory was established.
Ahmed said it broke a 53-year-old record of 33.8 degrees Celsius, recorded on September 1, 1970.
The all-time record is 35.0 degrees Celsius, recorded on September 18, 1934, he added.
There was a forecast of dry weather till Friday and it remained hot and dry across the valley, the deputy director said.
However, there was slight rain early on Friday in some areas of Pulwama and Shopian.
The weather has remained generally hot in Kashmir in the last about two decades. The temperature touched 32.7 degrees Celsius in 2017, 2019 and 2021 as well, Ahmed said.
"So, it is not that the weather has been this hot for the first time. This time, it was a bit extended due to which people felt uncomfortable," he added.
Ahmed said the whole of August and the first week of September remained dry and, because of the extended dry weather, the temperature increased and caused heatwave-like conditions.
"The day temperature has remained 5-6 degrees above normal across most of the stations, thus falling under the heatwave category," he said.
Ahmed advised children, older people and labourers to take excess fluids.
"There is a drinking water crisis. The water level in rivers and streams has also gone down. The extended dry weather can result in a drop in the yield of paddy and can impact apple cultivation. The absence of rain affects the colour, quality and weight of apples," he said.
The weather office, however, said there is a forecast of light to moderate rain in the valley over a few days from Saturday that can bring respite from the heatwave conditions.
The hot weather in the valley has also dampened the morale of tourists in the valley.
"I had not thought that it would be this hot. We expected there to be greenery and the weather to be cooler. But it is very hot here, it feels like Kolkata. While there is some respite during the nights, it becomes difficult to venture out during the day. This is quite opposite to our expectations," said Sneha Mandal, a tourist from Kolkata.
She said they shopped for winter clothes before coming to Kashmir, expecting the temperatures to be lower than that in Kolkata.
"We thought the weather would be like in winter but it was nothing like that. The temperature has affected our health as well," Mandal said.
Happy, a tourist from Punjab, said his family planned the trip to get respite from the hot weather in his home state "but it feels like we are still in Punjab".
"We had to purchase summer clothes here as we had only packed winter clothes," he added.
Neetu, another tourist, said, "We expected colder conditions but the weather here is the same as in Punjab. It does not feel good."
Manzoor Ahmad, a local, said it was the first time that he experienced such hot weather.
The hot weather is causing problems for the people, he said, lamenting the shortage of drinking water supply points in the city.
"Doctors issued an advisory to keep hydrated but there are no drinking water facilities at such a tourist place like Boulevard. The tourists also face difficulties. We have to buy mineral water," he said.
Mohammad Shafi Baba, another local, said, "I have never experienced such hot weather during this month in my life. We have to find ways to escape this hot weather. But there are no water supply points in this place and we are facing difficulties."