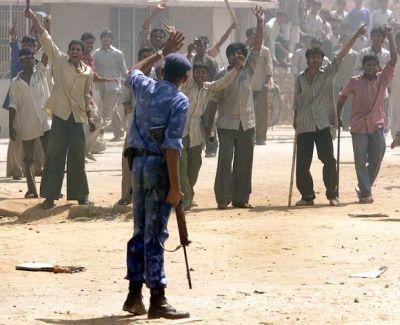 The Gujarat high court on Thursday reversed a trial court verdict of acquittal in a post Godhra riots case, and held 10 of the 27 accused guilty of murder of two people at Meda Adraj in Kadi tehsil of Mehsana district.
A division bench of Justices Anant Dave and B N Karia will pronounce the sentence on August 4.
A fast-track court in Mehsana had acquitted all the 27 accused on June 14, 2005.
The incident had taken place on March 3, 2002, a few days after the Godhra train burning incident.
A mob of around 200 persons encircled the victims Kalu Miyan Saiyed and his daughter Hasina Bibi in the compound of one Joitaram Prajapati in the village, and burnt them alive.
Six eyewitnesses testified against the accused.
The state government and complainants had challenged the trial court's verdict.
The HC convicted ten people under Sections 302 (murder), 148 and 149 (unlawful assembly) and 436 (mischief by fire) of Indian Penal Code.