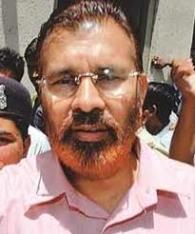 IPS officer D G Vanzara, who is behind the bars in connection with fake encounter cases, will retire on Saturday. After serving for 34 years, the suspended officer who is in jail for the last seven years will retire. He is lodged in Sabarmati Central Prison.
Vanzara, 59, has been in jail ever since he was arrested by the state Criminal Investigation Department in March 2007 in connection with the alleged fake encounter of Sohrabuddin Sheikh.
When he was arrested, Vanzara was serving as Deputy Inspector General of Police of Border Range. Later, he was also made the accused in the cases related to fake encounters of Ishrat Jahan, Tulsiram Prajapati, Sadik Jamal and others.
Recently, when some of his junior officers including Abhay Chudasama and Rajkumar Pandian were granted bail by the court, Vanzara too sought release. However, the Central Bureau of Investigation opposed his plea in the Mumbai court, which denied him bail.
Vanzara joined the police force as a deputy superintendent of police in 1980 and was promoted as an Indian Police Service officer in 1987. He served as deputy commissioner of police of Ahmedabad Crime Branch and was later promoted as DIG. He has worked as DIG, Anti Terrorism Squad in Ahmedabad.
In May 2013, Vanzara resigned from the service and sent a letter to the Director General of Police in which he blamed former Minister of State for Home Amit Shah for making him and other police officials 'scapegoats' in fake encounter cases.
However, his resignation was not accepted by the state home department. "Since he is under suspension, he will be given a temporary pension, which will be decided by the home department," said a senior IPS official. "We will take into consideration all the factors while deciding his pension and gratuity," said Additional Chief Secretary, Home, S K Nanda.