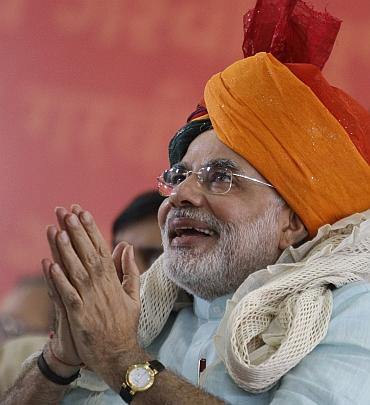 Sohrabuddin Sheikh fake encounter case accused and jailed Gujarat police officer D G Vanzara, who had earlier been suspended, has resigned from his post.
In a 10-page letter to the Gujarat home ministry, Vanzara has claimed that Gujarat Chief Minister Narendra Modi and then home minister Amit Shah were well aware of the actions of senior police officials like him.
Vanzara alleged that the Narendra Modi government has done little to save him from the ordeal he is currently facing.
Vanzara accused the Modi government of protecting former home minister Amit Shah while dumping police officials in encounter cases. He also blamed Modi for being under the 'evil influence' of Shah.
"Since 2002, the government is not only not interested in protecting us but it also has clandestinely been making all efforts to keep me and my officers in the jail so as to save its own skin from the CBI on one hand and gain political benefits on the other," Vanzara wrote in his letter.
He alleged that the state government has been "reaping rich political dividends by keeping the glow of encounter cases alive in the sky in Gujarat while otherwise, remaining in the low profile and indifferent to the fate of jailed police officers."
Click HERE to read D G Vanzara's letter to the Gujarat home ministry