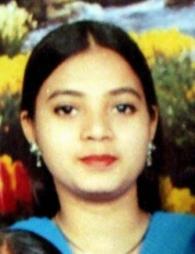 CBI investigations point out that the then Director General of Police DG Vanzara received a go ahead two days prior to the encounter. Vicky Nanjappa reports
The Central Bureau of Investigation is looking to question Gujarat Chief Minister Narendra Modi and former state home minister Amit Shah in connection with the Ishrat Jahan encounter case. CBI sources tell rediff.com that they are trying to investigate if Modi and Shah were aware of the alleged 'encounter' in June 2004 in advance.
The investigators allege that a fake alert had been sounded by the Intelligence Bureau and passed on to the Gujarat police who in turn carried out the encounter. The CBI feels that the top leadership in the government ie the CM and the then home minister may have been informed about this.
The CBI is basing its claim largely on the investigation conducted on D G Vanzara, the then Deputy Inspector General of Gujarat Police, Border Range, who is currently under judicial custody in the case. He is alleged to have told another officer in the department that he had got a go ahead for the encounter on June 13, 2004, two days before the killing.
Vanzara allegedly said that the nod was given by "white and black beard", which the investigators believe were code names in police circles for Modi and Shah respectively.
The CBI in its status report has further alleged that Vanzara had called up Modi's residence 14 hours before the encounter. This call was made at 2.49 pm. According to the CBI, he made another call to Amit Shah at 10.57 pm on June 14, which was five hours prior to the encounter. There were calls made after the encounter too.
The CBI has been granted time to prepare a chargesheet by July 2 and the new developments in the case are expected to be a part of it. The agency will seek more time from the court to further probe this angle.
The chargesheet is also likely name Rajinder Kumar, the Intelligence Bureau official, who is suspected to have generated the false alert. Kumar asked Vanzara what needed to be done of Ishrat and her accomplices who were in police custody, according to the CBI.

The CBI says that the fact that they were in custody and later killed goes on to show that the encounter was fake. "There are testimonies of the various police officials which point out that Kumar masterminded this entire operation," an investigating official said.

Kumar, however, during his questioning had denied any involvement and maintained that the alert was a genuine one. "The IB has no role in ordering the state police as to what ought to be done of the alert," he told CBI officials.

Image: Ishrat Jahan was killed along with on June 15, 2004 along with three others by the Ahmedabad police, who alleged they were Lashkar-e-Tayiba opreatives