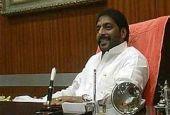 The Supreme Court on Friday declined to entertain the bail plea of former Haryana Minister Gopal Goyal Kanda arrested for his alleged role in air hostess Geetika Sharma suicide case and asked him to approach the sessions court.
A bench of justices Chandramauli Prasad and V Gopala Gowda asked Kanda, who had moved the apex court after his bail plea was denied by the Delhi high court on November 19 last year, to seek relief for the Sessions Court.
The high court had dismissed his bail plea saying there was apprehension that he might influence the witnesses and tamper with the evidence in the case.
While denying the relief sought by Kanda, the high court had also taken note of the prosecution's submission that prior to surrendering, he had destroyed material evidence in the case for which he has been charge sheeted.
Kanda had moved the high court on November 1, 2012 against the September 20, 2012 order of the trial court which had dismissed his bail plea on the ground for need of further probe due to a medical report which had said that the victim was pregnant in March 2012.
23-year-old Geetika was found dead on August 5, 2012 at her Ashok Vihar residence in North West Delhi. In her August 4, 2012 suicide note, Geetika had said she was ending her life due to "harassment" by Kanda and his aide Aruna Chaddah, co-accused in the case. They, however, had denied the charge.
Kanda was denied anticipatory bail earlier by the trial court and the Delhi high court after which he had surrendered before the police on August 18, 2012.