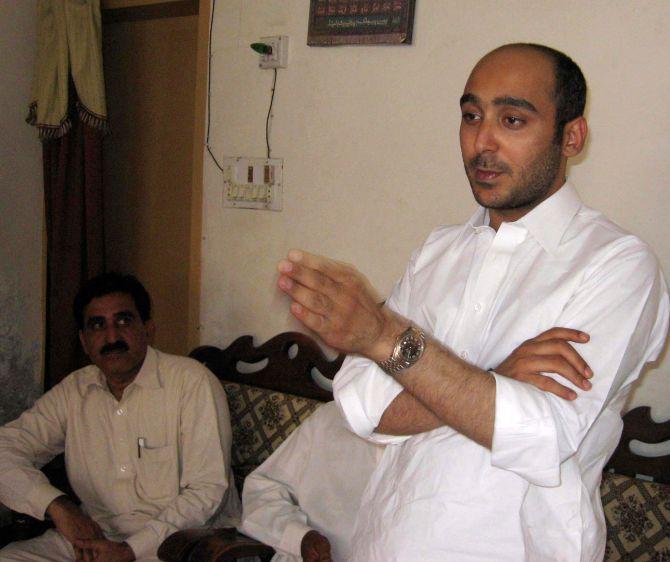 The son of Pakistan's ex-prime minister Yousuf Raza Gilani was on Tuesday rescued from the clutches of Taliban in a joint operation by the US and Afghan forces in Afghanistan, three years after he was abducted from his hometown in Pakistan's Punjab province.
Ali Haider Gilani "has been recovered today in a joint operation carried out by the Afghan and US security forces in Ghazni, Afghanistan," Pakistan's foreign office said in a statement.
Afghan National Security Advisor Mohammad Hanif Atmar informed Sartaj Aziz, Advisor to the Prime Minister on Foreign Affairs, about the news in a telephone call, it said.
"Ali Haider Geelani's transfer to Pakistan is being arranged following required medical check-up," it said.
Tuesday's development comes two months after the kidnapped son of slain Punjabi governor Salman Taseer was rescued by Pakistani forces in an operation near Quetta.
The news of the rescue of Haider, believed to be in his 30s, was broken by Pakistan People's Party Chairman Bilawal Bhutto Zardari on Twitter.
"Former PM Gilani received a call from ambassador of Afghanistan. His son Ali Haider Gilani has been recovered in a successful operation," Bilawal said.
Haider, whose father's secular anti-Taliban Pakistan People's Party has led several major offensives against militants, was kidnapped by gunmen in Multan in 2013 just two days before the May 11 general elections in which he was contesting.
He was leaving a street corner meeting outside the house of a supporter in FarrukhTown in his hometown of Multan in southern Afghanistan when the gunmen killed his two associates and abducted him.
"Haider was in the custody of Al Qaeda. He has been recovered during an operation of special forces," reports here quoted an Afghan ambassador as saying.
He said Haider is in good health and he will be sent home through a special plane.
"Foreign affairs advisor Sartaj Aziz has told me about the recovery of my brother," Abdul Qadir Gilani said.
"My whole family and I are extremely happy to hear good news of safe recovery of Haider," he said.
A large number of PPP workers gathered outside the residence of Gilani in Multan to celebrate Haider's release.
The former premier had last year said that the abductors had contacted him and demanded ransom for his release. In a video message last year, Haider said the kidnappers were initially demanding Rs 2 billion for his release but later they had reduced the ransom amount to Rs 500 million.
His father had said he was ready to pay the ransom amount.
Shahbaz Taseer, who was abducted in August, 2011 some seven months after his father was killed by his own police guard Mumtaz Qadri, was recovered from Balochistan's Kuchlak area after nearly five years. Qadri was hanged a couple of months ago at Adiala Jail Rawalpindi after President Mamnoom Hussain rejected his mercy plea.
Image: Ali Haider Gilani, son of former Pakistani Prime Minister Yusuf Raza Gilani, before his abduction by unidentified gunmen. Photograph: Reuters