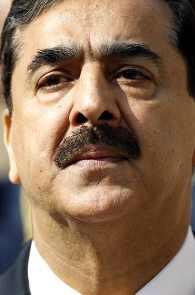 With the Pakistani police yet to make any breakthrough in their efforts, former prime minister Yousuf Raza Gilani on Friday sought the help of the Inter-Services Intelligence to locate his son Ali Haider, who was kidnapped by heavily-armed men in Multan.

"We have not yet received any call from the kidnappers. I ask the ISI to help the police trace my son," Gilani told reporters.

Six to eight armed men kidnapped 27-year-old Ali Haider on Thursday while he was campaigning for Saturday's national election in Multan district, 350 km from Lahore. His personal secretary and a bodyguard were shot and killed by the gunmen.

A source in Punjab Police told the Press Trust of India that a faction of the Punjabi Taliban could be behind the kidnapping. "A Punjabi Taliban group based in Mian Chanu, 80 km from Multan district, is believed to be involved in the kidnapping of Ali Haider Gilani," the source said.

Gilani is one of the top leaders of the Pakistan People's Party, which led the last government at the centre.

The PPP had, for long, been pressing the Punjab government to take action against the Punjabi Taliban holed up in the southern part of the province. It emerged on Friday that Ali Haider had received threats from the banned Lashkar-e-Jhangvi and Sipah-e-Sahaba.