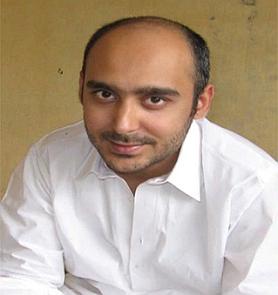 Former premier Yousuf Raza Gilani's son Ali Haider was on Thursday abducted by suspected militants who shot and killed two persons in Punjab province, triggering fresh concerns about Pakistan's general elections that have already been badly hit by Taliban violence.
Ali Haider, 27, was campaigning at FarrukhTown in Multan, 350 km from Lahore, when the gunmen intercepted his SUV and fired indiscriminately.
The gunmen, who came to the spot on motorcycles and a car, took Ali Haider away with them.
Mohiyuddin Bhutta, the personal secretary of Ali Haider, was killed instantly and four bodyguards were injured.
One of the guards later died in hospital.
No group claimed responsibility for the abduction.
Sources in Punjab Police told PTI, a Punjabi Taliban faction was believed to be behind the abduction.
Local police chief Ghulam Mehmood Dogar described the incident as an act of terrorism.
He said police had sealed the district and offered a reward for anyone who provides information about the kidnappers.
Dogar did not rule out the involvement of banned militant groups.
"At this stage we cannot say anything. Definitely this is an act of terrorism and this is the work of terrorists," he told reporters.
"According to preliminary information, we are quite sure that the victim is not injured, he is alright," Dogar said.
Six to eight men were involved in the kidnapping and police had arrested two suspects, he added.
A witness told the media that the gunmen came to the spot in a car and two motorcycles and indiscriminately fired at Ali Haider's supporters.
He said he had seen the gunmen bundle Ali Haider into a black car and drive away.
The gunmen kept firing as they sped away, the witness said.
The witness said Ali Haider's clothes were stained with blood but he was not sure whether he had been wounded.
The abductors were wearing shalwar-kameez and one of them had a beard, the witness said.
Ali Haider, who was campaigning for himself and his elder brother Abdul Qadir, is one of a set of triplets.
Gilani, who has four sons and a daughter, is one of the top leaders of the Pakistan People's Party, which led the outgoing government.
Ali Haider is contesting polls to the Punjab Assembly.
Former Interior Minister Rehman Malik told PTI in Lahore that he did not have any information about the involvement of the Pakistani Taliban in the kidnapping.
"However, I cannot rule out the hand of extremists in this incident," he said.
Gilani had earlier postponed a rally scheduled to be held in Multan on Thursday because of threats.
"We cannot take the risk of holding rallies because of a security threat," he had said in a statement a few days ago. He also refused to lead the PPP's election rallies because of a threat from the banned Tehrik-e-Taliban Pakistan.
The former premier told the media that the forces attacking liberal political parties were behind his son's abduction.
He asked PPP workers to remain calm and continue their campaign.
"Democracy is the best revenge. I will tell the people that it is not in the national interest for democracy to be derailed," he said.
Footage on television showed Ali Moosa, another of Gilani's sons, weeping and trying to control irate PPP workers.
He pledged that he would not allow polls to be held in Multan if his brother was not recovered.
The banned Tehrik-e-Taliban Pakistan had warned that it would target secular parties like the Pakistan People's Party and Awami National Party ahead of the May 11 general election.
The threats have forced the parties to virtually stop campaigning.
About 100 people have died in bombings and attacks by militants since last month.
President Asif Ali Zardari condemned the kidnapping of Ali Haider. He telephoned Yousuf Raza Gilani and described the abduction as "a most reprehensible act of a cowardly enemy".
Presidential spokesman Farhatullah Babar said Zardari called on government agencies to get into action to recover Ali Haider safely and bring those responsible to book.
Zardari said progressive democratic parties had expressed their "serious apprehensions" about militant threats and called on the Election Commission and the caretaker government to take appropriate measures so that the May 11 general election is "not hijacked by the extremists".
Zardari said democratic forces would not be deterred by such cowardly acts and would continue to fight militants and extremists to the finish and make the ongoing democratic transition a success.
The elections mark a historic milestone for Pakistan as one civilian government completes its term and prepares to hand off to another.