Former Army chief Gen Deepak Kapoor and many retired top officers of the defence services joined the Rahul Gandhi-led 'Bharat Jodo Yatra' on Sunday which is passing through Haryana.
Amid severe cold and fog, the march resumed in the morning from Dodwa in Karnal's Nilokheri region and entered the Kurukshetra district later in the day.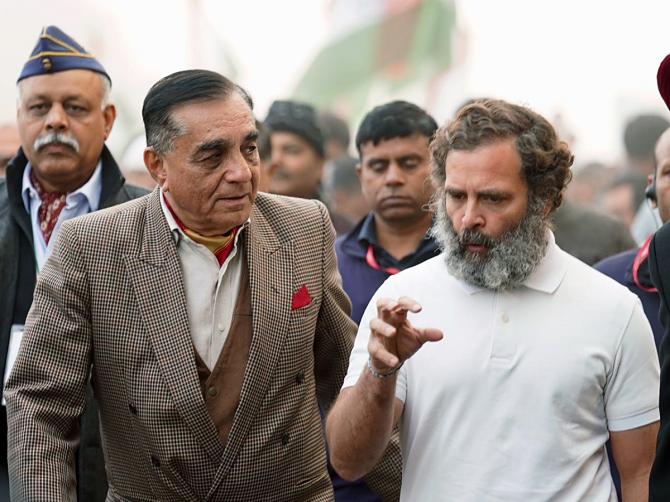 In the evening, Gandhi offered prayers on the banks of holy Brahma Sarovar in Kurukshetra.
For most of the prayer, Gandhi was seen in a red shawl over his white T-shirt which he has been sporting during the yatra. Later, he also took part in the evening 'aarti'. He was accompanied by former chief minister Bhupinder Singh Hooda, Haryana Congress chief Udai Bhan and senior party leaders Kumari Selja and K C Venugopal.
Scores of people joined the yatra as it passed through Karnal in the morning, which is also the home constituency of Chief Minister Manohar Lal Khattar. The Congress' march was welcomed through traditional Haryanvi dance while some blew conch shells.
"Ex-COAS (chief of Army staff) Gen Deepak Kapoor, Lt Gen R K Hooda, Lt Gen VK Narula, AM (air marshal) PS Bhangu, Maj Gen Satbir Singh Chaudhary, Maj Gen Dharmender Singh, Col Jitender Gill, Col
Pushpender Singh, Lt Gen DDS Sandhu, Maj Gen Bishamber Dayal, Col Rohit Chaudhry join @RahulGandhi at the Bharat Jodo Yatra," the Congress tweeted.
Gen Deepak Kapoor (retd) had taken over as the chief of army staff on 30 September 2007.
The march covered over 130 km in its first leg in Haryana from December 21 to 23, passing through Nuh, Gurugram and Faridabad districts.
It re-entered Haryana's Panipat Thursday evening from Uttar Pradesh. Over the next two days, it will also cover the Ambala district before entering Punjab.
The yatra, which started from Kanyakumari in Tamil Nadu on September 7, will end after reaching Srinagar by January 30 with Gandhi hoisting the national flag there.
The march has so far covered Tamil Nadu, Kerala, Karnataka, Andhra Pradesh, Telangana, Maharashtra, Madhya Pradesh, Rajasthan, Delhi and Uttar Pradesh.