The Rahul Gandhi-led Bharat Jodo Yatra re-entered Haryana on Thursday evening from Uttar Pradesh but he left for Delhi to meet his ailing mother Sonia Gandhi and will return next morning, a senior Congress leader said.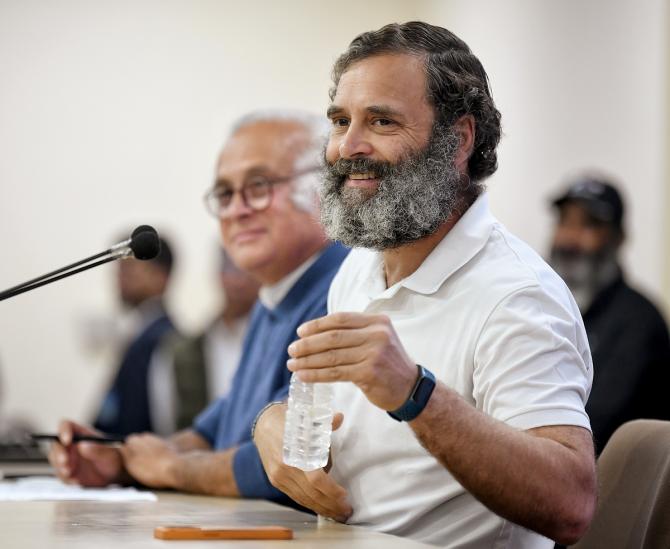 "The yatra entered Haryana from Sanoli border in Panipat in the evening. Rahul ji left for Delhi to meet his mother who is ill. He will return to Panipat on Friday morning and the yatra will then resume its Haryana leg," former Haryana chief minister Bhupinder Singh Hooda told PTI over phone.
He said Rahul left for Delhi by car.
Hooda, who is Leader of the Opposition in the state assembly, said that all programmes of the march will go as per schedule on Friday which include a public meeting in Panipat later in the day.
Former Congress president Sonia Gandhi was admitted to Sir Ganga Ram Hospital in Delhi on Wednesday for treatment of viral respiratory infection.
As the yatra entered Haryana territory, it was accorded a warm welcome by several Congress leaders and workers from the state.
The march, which will resume its Haryana leg in the second phase, will start from Panipat on Friday morning after its night halt at Sanauli Khurd village.
In the afternoon, a public meeting will be held in Panipat that will be addressed by Rahul Gandhi, party chief Mallikarjun Kharge and other senior leaders.
Over the next few days, it will also pass through Karnal, Kurukshetra and Ambala districts before entering Punjab. Notably, the yatra covered over 130 km in the first phase in Haryana from December 21-23 when it passed through Nuh, Gurugram and Faridabad districts.
The Bharat Jodo Yatra, which started from Kanyakumari on September 7, will end with the hoisting of the national flag by Rahul Gandhi in Srinagar on January 30.
The march has so far covered Tamil Nadu, Kerala, Karnataka, Andhra Pradesh, Telangana, Maharashtra, Madhya Pradesh, Rajasthan, three Haryana districts (in first phase), Delhi and Uttar Pradesh.