'Love recognises no barriers.'
In the midst of the ongoing pandemic, a same sex couple has moved the Delhi high court seeking that they be allowed to get married under the Special Marriage Act, saying they have been living together as a couple for eight years, in love with each other sharing the highs and lows of life, but unable marry as they are both women.
A similar plea has been moved by two men, who got married in the United States, but their marriage was not registered under the Foreign Marriage Act of 1969 by the Indian consulate as they were a same sex couple.
In response, the Union government told the Delhi high court that marriage between same sex couples was 'not permissible' as it is not recognised by 'our laws, legal system, society and our values'.
In 2001, the Naaz Foundation, an NGO fighting for gay rights, filed a PIL in the Delhi high court seeking legalisation of gay sex among consenting adults.
It took the courts 17 years to decide on the matter and finally on September 6, 2018 a Supreme Court Constitution bench unanimously decriminalised part of Section 377 of the Indian Penal Code which criminalises consensual unnatural sex, saying it violated the right to equality.
Dominic Xavier wonders when and if the courts will legalise same sex marriages in India.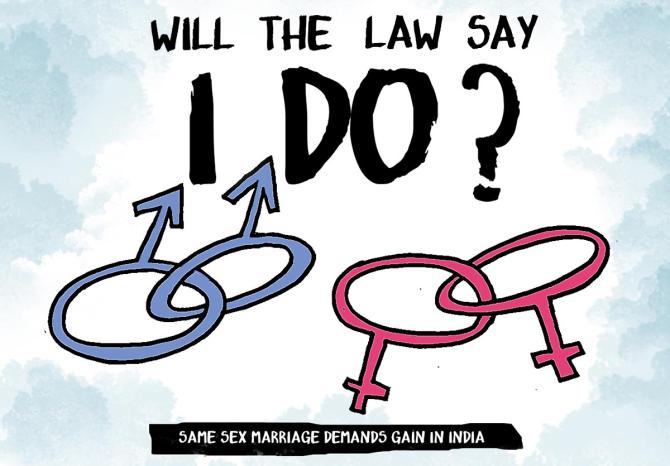 Feature Presentation: Aslam Hunani/Rediff.com