'Societal acceptance is the surround-sound of the socio-economic political compass that we live in. This is the first step.'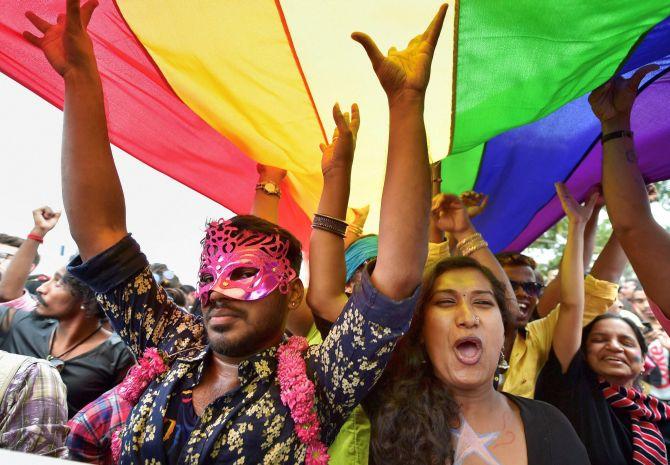 'History owes an apology to the Lesbian, Gay, Bisexual, Transgender community for denying them their right and compelling them to live a life of fear,' Justice Indu Malhotra said as the Supreme Court struck down Section 377 -- a colonial relic that criminalised gay sex between two consenting adults.
As the archaic law was struck down, a community rejoiced and tears of happiness and relief could be seen across the nation.
Among them was senior journalist Sunil Mehra, one of the petitioners who challenged Section 377, enacted in 1860.
The Supreme Court verdict "re-establishes human values and restores humanity," Mehra tells Rediff.com's Syed Firdaus Ashraf in a telephone interview.
Your first reaction?
This verdict was a long time coming; it is long overdue; the judgment establishes human values. It restores humanity and compassion.
In society, how can you discriminate against people because they love differently?
Do you think that with the verdict, Indian society will see a greater acceptance of the LGBT community?
It is a gradual process. Societal acceptance is the surround-sound of the socio-economic political compass that we live in. This is the first step.
You have to nurture and create an environment where people transcend these things and look beyond because there are more important issues like hunger, poverty, starvation, caste, brutality and this will happen as compassion leads in the society.
It also depends on the ruling polity.
Nothing happens overnight. Everything is a process.
This judgment is a process in the right direction and we hope it takes its natural course now.
The tag of being a 'criminal' must have been too much to bear.
It is passé, outdated and silly.
We were hanging on to a colonial law which was outlawed by the very people who drafted it.
The law flies in the face of triumph, flies in the face of psychology, flies in the face of any tenet that you hold up for empirical study.
It was long coming and also in a sense you were repudiating your own societal fabric.
India is a great country. India was never, ever homophobic to the best of my knowledge.
Our mythology is replete with it and there was never any castigation.
Hinduism, per se, has never castigated homosexuality.
WATCH: Celebrations in Bengaluru after the Supreme Court legalised homosexuality.
But we see Hindus saying homosexuality was never part of Hindu society.
In a society we will always have mavericks and mad people. We always have people whose minds have been colonised. They don't think before they speak and they think they are right, so that is all right. That is the nature of the beast.
It hurts and there has been lot of collateral damage.
A lot of people like Navtej Johar (one of the co-petitioners in the case and Mehra's long-term partner) and me were protected by class, education, money and privilege, but that was not the case for a child growing in Sawai Madhopur, Madurai and other places. He is suffering.
We need to create a society where people can realise they are full of selves, without fear, without dread, a society where violence can't be imposed upon.
Was this review petition your last hope for seeking justice?
This is just a blip on the landscape.
One should never give into despair; sometimes you give into despair politically, sometimes socially -- the whole thing is a confrontational approach never works.
There is always room for dialogue and for reason.
Can you share your emotional journey in this case?
Emotions apart, we had to put names and faces on a petition like this one. It was sheer absurdity.
The illogic and manifest injustice of it in the times we live in. It flies in the face of any rules on humanity.
It is a huge (judgment) for the nation.
We have had individuals making statements like 'Homosexuality can be cured by yoga'.
Like I told you, there will always be mavericks in a society. It is like saying honour killing is the way to correct societal wrong. These are the fringe who will always prevail till better reason prevails.
Did your lawyers present anything in court stating that ancient Shastras permitted homosexuality?
I am not a theological expert, but to the best of my knowledge and from the little I know and what I have lived, there is no tenet in the Hindu faith that castigates homosexuality.
In fact, our mythology is replete with people who are like that. Indian society is very tolerant always.
This is Western culture which was superimposed on us, essentially a live and let live society.
We were pretty much regretting who you were rather than who you became or were made to become.
The Constitution says we must have a scientific temper. Nevertheless it took the highest court in the land to intervene in such a case.
Section 377 is not an exception. Don't you see so much else is happening as we speak, as there is communal hatred, gau-rakshaks. You think this is divorced from that?
It is sole ill-informed hatred.
It is sole illogic and absurdity.
It is all cynical manipulation that informs such moves.
This is all policing of morality and society.
The harassment, the stigma that the LGBT community has endured for so long, do you think it will come to a halt now?
Obviously, you made people very miserable. You made a society which was giving, a compassionate society into a heteronomic one, so people were under pressure.
People were killing themselves and marrying under pressure. How unfair was that?
What will change for you from tomorrow?
For me, nothing changes from tomorrow.
I have lived my life. I hope it makes a change for someone else.
This is for youngsters who are out there who are in pain.
We were insulated and we have been fine.
In terms of society, as people learn to see the absurdity of the issue. That is important.
Karan Johar, the film-maker, wrote in his memoir that he could not say he was gay as he feared arrest.
People were blackmailed and sodomised by the police.
People would be picked up in cars. Extortionists would assail them.
This would happen whenever you put anything undercover, maleficent happenings.