'When that happens, it will be a landmark day for all of us. That will mean something to us.'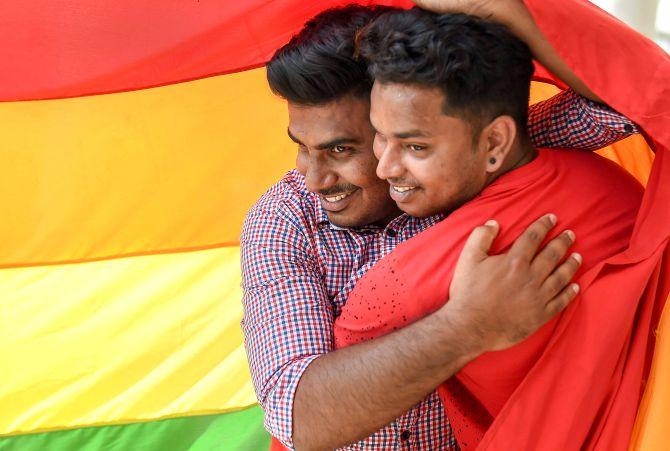 Kushal*, 23, a gay HR executive from Navi Mumbai, talks about coming out to his parents and what the Supreme Court's September 6, 2018 verdict means to him.
Rediff.com's Divya Nair listens in.
---
In 2016, I was in final year of college (pursuing Bachelor of Mass Media) when I told my grandma that I wasn't interested in girls.
I was closest to my grandma -- she's a dancer.
I told her, 'I don't want to marry a girl. I kind of like boys.'
I expected her to react, but she was cool.
At the time, I was dating a guy so I told her about it.
She was very supportive.
Some months later, I told my dad and cousins from his side of family. They took it in the right spirit.
The same year, I told my mother. Her reaction was different.
She broke down, got angry. She was worried how people will respond.
It took her some time to understand me.
When a cousin of mine got married to his gay partner in New York it gave me hope.
Some time back, my mother told me, 'We are half Jew so don't even think about getting married in India. People may want to harm you. If you want to marry, you can go to Israel.'
My mom's side of family is still very conservative.
I don't talk about my relationships much, but at least my parents know.
Thankfully, I have a small group of friends who know who I am.
Some of them even accompany me when I go out on a date.
Dealing with prejudice
When I was in college, we had a debate on LGBT (lesbian, gay, bisexual, transgender) rights. Most of my classmates were against it.
During the argument, I got excited and said, 'I am queer. I am your friend. Will you not support me?'
I didn't intend to declare it, but it just happened. And everyone was surprised.
After the class, my teachers took me out to a cafe and asked me if I was okay, if I needed any help. I told them I was fine and am glad they wanted to help.
My teachers and friends have been a huge support since.
The Verdict
I welcome the Supreme Court verdict. It says homosexuality isn't illegal, unnatural.
Thank you for that.
The good part is earlier I couldn't talk about it openly, now I can.
But what about same sex marriage? That is yet to be legalised. We need to talk about that as well.
When that happens, it will be a landmark day for all of us. That will mean something to us.
Message to readers
You have every right to pick your sexuality. But you have to ensure when and how you are going to come out.
Before you tell anyone, you need to gauge their emotions.
If you are living with conservative parents, ask yourself if you are financially stable.
Most parents' first reaction is -- 'Get out of my house.' Are you prepared for that?
If you ask me, the first person to confide in should be your mother. Mothers have a soft spot for sons. She'll be upset when you tell her, but she'll sooner or later she'll accept you.
Some fathers can be harsh; not all of them.
If you are not ready yet or you have no one you can confide in, you can maintain a double identity.
I do that when I am visiting my mom's side of relatives. I pretend to be normal, like other people.
When I am with my dad's family, I am myself, because they know who I am, what I feel.
*Name changed to protect identity.