With every passing day, the daily soap opera that is Kangana Ranaut gets more and more bilious.
No one is immune from Ranaut's rants.
Not the chief minister of the state where she found fame and fortune.
Not a legendary actor whose roster of performances Ranaut will not surpass in this lifetime.
Encouraged by television channels which masquerade as 'news' channels, Ranaut finds fresh targets every day.
The other night, angered by Urmila Matondkar's comments on a rival television channel, Ranaut vented on the senior actor, calling her a 'soft porn star'.
Wisely -- like most of Bollywood who refuse to engage with Ranaut's vitriol, preferring to stay mum in public and snigger in private at a colleague gone rogue -- the gentle Urmila declined to comment.
Bollywood is unlikely to hire an actor who had a reputation for being difficult even before her current campaign of calumny -- remember, what happened on the sets of Manikarnika?
With her celluloid career careening down a cul-de-sac, Ranaut may make the switch to politics sooner than later.
No prizes for guessing which party she will head to.
Where, we wonder, would that leave that party's current lady stars, our finance minister and our textiles/women and child welfare minister, neither of who would use language that Ranaut appears to prefer.
Dominic Xavier mulls over the shooting star that is Kangana Amardeep Ranaut.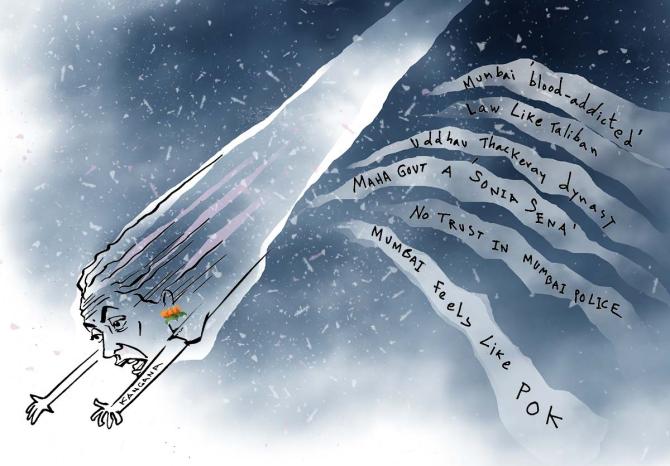 Feature Presentation: Aslam Hunani/Rediff.com