India on Thursday recorded a single day record spike of 75,760 infections -- the most in the world -- taking the country's total coronavirus caseload to 3,310,234.
India's COVID-19 tally crossed the 2 million mark on August 7 and went past the 3 million mark 16 days later, on August 23.
'Governments have neither any idea of the source of the infection nor a grip on the disease. Headline management will not work, not in this case,' Sunita Narain warned in a column posted on these pages last week.
The government may want to distract the Indian people from a pandemic that threatens to spiral out of total control -- hence, the excessive coverage of the alleged conspiracies and plots surrounding an actor's death by suicide on news television channels -- but unless it steps in with a fresh plan to arrest infections across many states, the nation will continue to be pulverised by coronavirus.
Much of the government's hope rests on an early vaccine being produced -- two volunteers, who were administered the Oxford COVID-19 vaccine candidate at a medical college in Pune as part of the phase II clinical trial on Wednesday are reported to be doing fine -- but it is unlikely a vaccine will be available before mid-2021.
Dominic Xavier believes it is time government agencies aggressively concentrate on bringing down the COVID-19 caseload, which spikes with each passing day, since there could be no vaccine this year.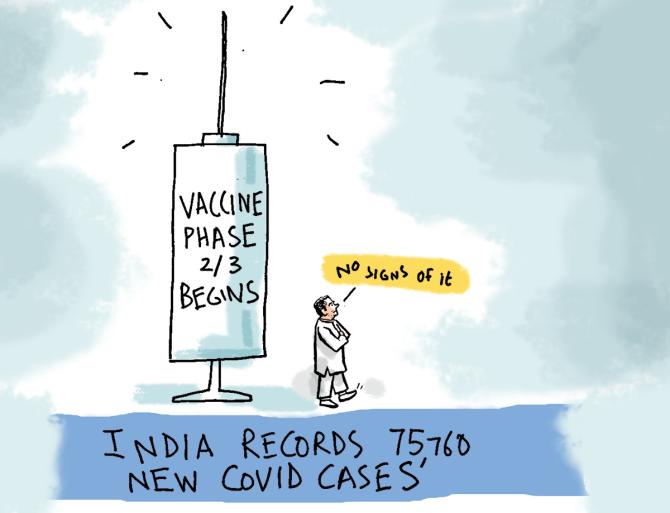 Feature Presentation: Aslam Hunani/Rediff.com