The Delhi police has asked three friends of the Shahbad Dairy murder victim to join the investigation, officials said on Wednesday.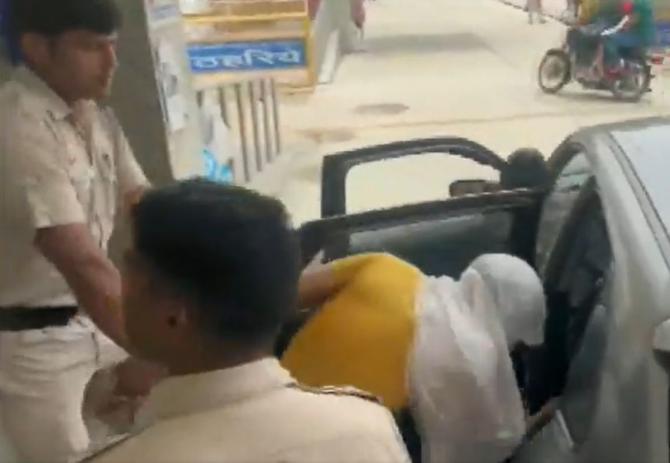 Sixteen-year-old Sakshi was stabbed over 20 times and then bludgeoned with a cement slab, killing her on the spot. She was found to have 34 injury marks on her body and her skull was smashed in.
The accused Sahil (20) was arrested from Bulandshahar in Uttar Pradesh on Monday.
A senior police officer said three of Sakshi's friends -- Bhawna, Ajay alias Jhabru and Neetu -- have been asked to join the investigation and provide the required details in connection with the incident.
Deputy Commissioner of Police (Outer North) Ravi Kumar Singh said, "We have the accused in our custody and interrogation is underway. We are looking at all aspects to connect the links. We are working to see all the individuals involved in the incident. Our team is working to recover the weapon used in it."
Fresh CCTV footage has emerged in which the victim is seen walking into a street minutes before her murder.
Ajay said Sakshi had complained to him about Sahil on Saturday.
He told PTI Video, "On Saturday, Sakshi came and said Sahil pestered her. Me, along with Bhawna and Sakshi, went to meet Sahil and asked him not to bother her. However, on Sunday, he committed the crime."
"When I heard about the incident and went to the spot, I saw her body lying there. Her skull was ruptured and her intestines were hanging. I helped the police shift the body into the ambulance," he added.
Sunil Kumar, another local who reached the spot, said he saw several people gathered there and Ajay was helping the police to carry the body.
The police are yet to recover the weapon used to kill Sakshi. Sahil disclosed that he threw the knife near the metro station at Rithala after the murder.
Sahil had planned the murder two days before he killed Sakshi, who had rebuffed him in front of her friends and refused to mend their relationship.