The parents of the teenage girl who was stabbed and bludgeoned to death by a youth in northwest Delhi claimed they were not aware if she had any acquaintance with the accused and demanded capital punishment for him.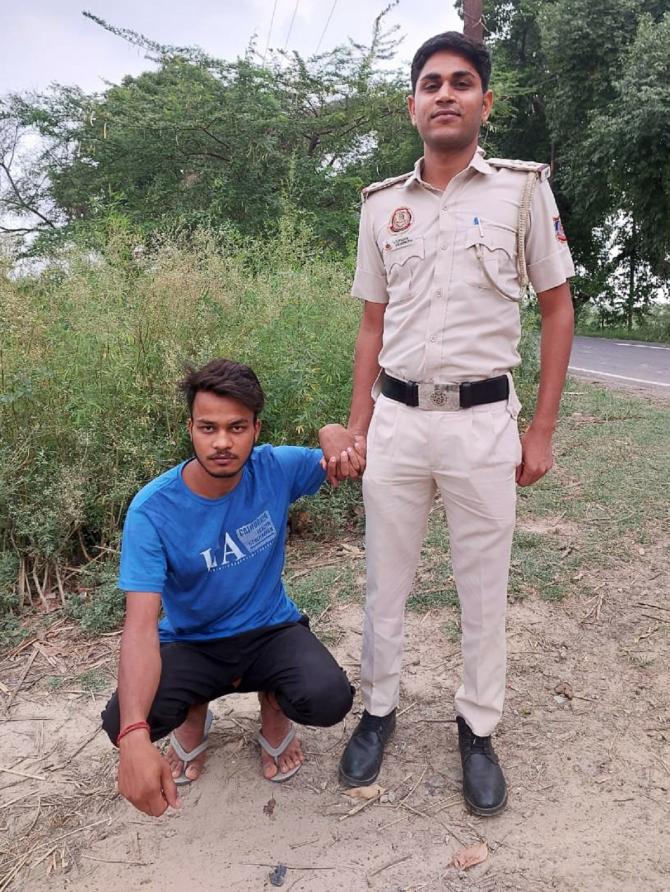 The police said the victim, Sakshi, and the accused, 20-year-old Sahil, were in a "relationship" but had a quarrel on Saturday.
The victim had gone shopping on Sunday evening for the birthday party of her friend's child when she was accosted by the accused in the densely populated neighbourhood, they said.
A nearly 90-second video of the incident that was shared online showed the accused pinning the victim to a wall with one hand and stabbing her repeatedly in a busy bylane in the Shahbad Dairy area.
He did not stop even when the girl slumped to the ground, jabbing the knife into her over 20 times, kicking her and then slamming a cement slab on her repeatedly.
The Delhi police said Sahil was arrested from Bulandshahr in Uttar Pradesh on Monday.
Waiting at the Ambedkar Hospital to receive their daughter's body, Sakshi's parents said they were not aware if she had any acquaintance with Sahil.
"We need justice for our daughter. She was brutally stabbed multiple times and her head was smashed repeatedly with a stone. We want the accused to be hanged to death," her father Janak Raj said.
Her mother said Sakshi had been staying at her friend Neetu's house in Shahbad Dairy for the past 15 days as the latter's husband was out of the station for work.
"My daughter had been staying with Neetu and her two children for the past 15 days. Just yesterday (Sunday) around 1:30 pm, I spoke to my daughter. She told me that she would return home once Neetu's husband was back and I was eagerly waiting for her. Little did I know that she would never return," she said.
With teary eyes, she demanded justice for her daughter and said, "The accused should be hanged to death."
The victim's father, a labourer, said the police have assured them justice for their daughter and they believe in the system.
Recalling Sunday's incident, he said Sakshi was excited about organising the birthday party of her friend's daughter and had gone out shopping.
"At the market, Sahil approached her and asked her to come with him. But when my daughter asked him why, he stabbed her multiple times and soon fell unconscious. He then smashed her head repeatedly with stones," he said.
The victim's parents said their daughter, who passed the class 10 exam this year never told them about Sahil.
"It was when the police informed us that we got to know about Sahil. Our daughter never told about being harassed by anyone," Sakshi's father added.
Meanwhile, Neetu at whose home Sakshi had been staying for the past 15 days said, "At the market, she told me to head back home. She wanted to use the washroom and told me that she was going to our common friend's house but I didn't know what happened them. She never returned," she said.
Asked if she was aware of Sakshi's acquaintance with Sahil, Neetu said that she was aware that they knew each other for more than three years but she was not aware of any relationship.
"She told me about her friendship with Sahil some six months ago. I never heard her speak to him over the phone but I was aware that they were fighting for some time now and she was not talking to him. I never told her parents about it because I never saw anything happening in front of me," Neetu added.
Sakshi's friend Aarti shared that she being close to her never knew about Sahil and had no idea about him.
"Had Sakshi informed her parents and filed a complaint against Sahil, her family could have saved her," she said.
Delhi police PRO Suman Nalwa said the accused Sahil worked as a fridge and AC mechanic. He lived in a rented accommodation with his parents and three siblings in Shahbad Dairy area.
A case under Section 302 (murder) of the Indian Penal Code has been registered at Shahbad Dairy police station on the complaint by the victim's father, the police added.
The police suspect that the "strained relationship" of the accused with Sakshi could be a possible reason behind the crime.