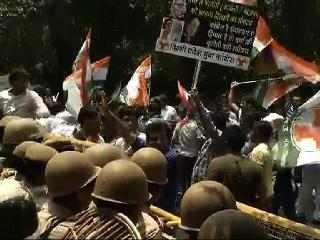 Scores of Youth Congress workers clashed with the police on Wednesday while staging a demonstration outside the Bharatiya Janata Party headquarters in New Delhi against the opposition party's "reluctance" to engage in a debate.
Holding Congress flags and placards, around 100 activists marched from the Youth Congress office on Raisina Road and broke two barricades to reach near 11 Ashoka Road office of the BJP on Wednesday afternoon. They also carried mirrors "to show the BJP what they are doing".
The placards read, "A pledge to show a mirror to the BJP which is running away from a debate. Congress is honest. If BJP has courage, come for debate."
Police resorted to use of water canon to disperse the crowd but the unrelenting protesters tried to return to the spot when it stopped. Later, the Youth Congress workers squatted on the road blocking traffic.
The activists were protesting the attack on the prime minister by BJP leaders demanding his resignation.
"The BJP leaders did not allow the functioning of Parliament. They were not allowing the passage of pro-poor legislations and were demanding resignation of the prime minister without any reason," a protester claimed.