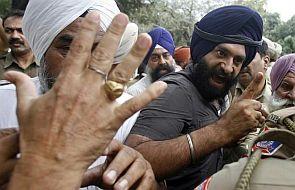 Over 200 Sikhs on Monday staged a protest near Parliament House blocking traffic for about an hour against the acquittal of Congress leader Sajjan Kumar in a 1984 riots case and demanding capital punishment for him.
Holding placards and shouting slogans against Congress, the protesters, including women, squatted at Vijay Chowk which is just a few metres away from Parliament House where a large number of police personnel were deployed.
The angry protesters, numbering between 200 and 250, blocked traffic for about an hour after which they were taken into custody by police who took them to a nearby police station.
The capital has been witnessing protests since last Tuesday after a court acquitted Kumar in an anti-Sikh riot case.
As a precaution, police blocked Rajpath from South Bloc to Rashtrapati Bhavan as well as portion of Raisina Road and Vijay Chowk. Traffic was also diverted causing inconvenience for commuters.
Several MPs were seen walking towards Parliament from Vijay Chowk as they could not take their vehicles due to the blockade.
The protesters had marched to the residences of Prime Minister Manmohan Singh and Congress chief Sonia Gandhi several times in the past week demanding death penalty for
Kumar and a Supreme Court-monitored SIT probe into the 1984 riots after the assassination of Indira Gandhi.
Meanwhile, the indefinite fast of Nirpreet Kaur, one of the '84 riot victims, entered the fourth day on Monday. Kaur is protesting against the acquittal of Kumar.
Kaur, who lost her father in the riots, had on Sunday shot off a letter to the Prime Minister asking him to set up a Special Investigation Team to probe the riots.

She has also demanded that CBI should file an appeal in the Delhi High Court against Sajjan Kumar in the case in which he was recently acquitted by a trial court.