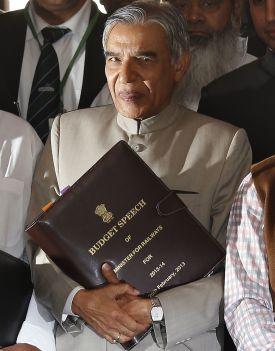 While it is becoming increasingly apparent that the fortunes of sacked Railway Minister Pawan Kumar Bansal's family members improved dramatically during his tenure in the government, officials on his personal staff were not doing too badly either.
Take the case of Bansal's private secretary Rahul Bhandrai, a 1997 batch Punjab cadre Indian Administrative Services officer, who is also being questioned by the Central Bureau of Investigation in connection with the bribery scandal involving the former rail minister and his nephew Vijay Singla.
Maybe not on the same scale as Bansal's sons and nephews, but Bhandari's personal assets showed a distinct rise in the years that he worked with the former minister.
The affidavit filed by Bhandari and his wife, Rakhi Gupta, also an IAS officer, with the Department of Personnel and Training, shows that his personal assets rose five times in the past three years.
What is revealing is that Bhandari purchased a plot of land through Ajay Garg, an accused in the bribes-for-jobs scandal which has rocked the railway ministry. Garg, who has close links with Vijay Singla, is presently in CBI custody and is being questioned by the premier investigating agency.
According to the details submitted to the DOPT, Bhandari had assets worth Rs. 28 lakhs in 2010 which rose to Rs. 1.32 crore within the next two years. Bhandari informed the government that he bought agricultural land in the Bhatinda area in Punjab from Garg in 2011 for Rs.9.97 lakhs. The value of this property rose to Rs. 30 lakhs within a year. He also said he had informed the government about this deal.
Bhandari also purchased an apartment in sector 4 Noida in 2012 for Rs. 97.5 lakhs. According to the IAS officer, this property was bought jointly with his wife for which they took a loan.
The officer also has a 500 sq yards plot in the Greater Punjab Officers' Housing Building Society, Mohali, for which he made a payment of Rs. 32.50 lakhs. He is also the owner of a 355 sq. yard plot in Ludhiana, which has been valued at Rs. 8 lakhs, purchased from Anita Singla. In addition, Bhandari is paying a monthly instalment of Rs. 20,000 for another property.
Bhandari's personal assets might compare poorly with those of Bansal's sons and nephews, but the recent improvement in his personal wealth points to a nexus between the former minister's staff members and Vijay Singla and his business associates who were allegedly to have promised lucrative assignments to senior railway officials for a hefty fee.
Singla was caught red-handed while accepting a bribe of Rs. 90 lakhs at the behest of suspended Railway Board member Mahesh Kumar with the promise of a better assignment.
What is even more damning are reports that Singla and Bhandari were old friends and that Bansal's nephew was responsible for getting him installed as the minister's personal secretary.
They apparently became acquainted way back in 2000 when Bhandari was posted as the sub-divisional magistrate of Barnala. Singla visited the place often as his close relatives are based there. The friendship lasted through Bhandari's various transfers across Punjab.
It was because of Singla's political connections that Bhandari got several important assignments, including the post of deputy commissioner of Bathinda in 2005. Subsequently, Singla introduced Bhandari to Bansal and it was at his behest that the Punjab cadre officer was appointed private secretary to the minister.
These revelations have brought the scandal to Bansal's doorstep which is why he had no option but to put in his papers. In fact, there is every possibility that Bansal may be called in for questioning by the CBI as its investigations have revealed that Singla and his associate Sandeep Goyal were alleged to have offered eight plum posts for a price to various contenders in different departments of the rail ministry.
Bansal will be asked about his financial links with Singla and the suspended official Mahesh Kumar who was appointed Raiway Board member (staff) days before this scandal erupted.
Interceptions of telephone calls between Singla and others have shown that many such calls were made from Bansal's official Ashoka Road residence.
Suspicion has also arisen about Bansal's meeting with Mahesh Kumar on April 17 on the sidelines of a function in Mumbai a fortnight before Kumar took charge as Raiway Board member (staff). Apparently, Mahesh Kumar has told the CBI investigators that Bansal and his private secretary Rahul Bhandari were key players in this deal in which he was promised that he would soon be moved as member (electrical) in the Railway Board for which he paid Singla an initial amount of Rs. 90 lakhs.
Mahesh Kumar is said to have met Singla at Bansal's Ashoka Road residence in this connection.
Image: Former Railway Minister Pawan Kumar Bansal gestures before presenting the annual rail budget in New Delhi on February 26, 2013
Photograph: Adnan Abidi/Reuters