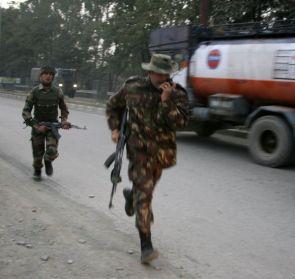 Militants shot at and killed a shopkeeper in north Kashmir apple rich Sopore town late Friday evening.
A senior police officer said militants fired at Khursheed Ahmad Bhat, a shopkeeper at Bomai Sopore, on Friday evening.
"Khursheed was immediately shifted to Sopore hospital where he succumbed," said the officer.
Senior police officers rushed to the spot immediately and the area was searched.
No group has yet claimed responsibility for the killing which came days after a hospital employee was killed in Sopore town.
He was an activist of the hard-line All Parties Hurriyat Conference group headed by Syed Ali Shah Geelani.
Last month militants had threatened the mobile phone outlets in Sopore town were they also attacked telecom towers leading to disruption of the cell phone services.
Two persons including an employee of a cell phone franchise were killed and three others wounded in separate militant attacks in north Kashmir last month.