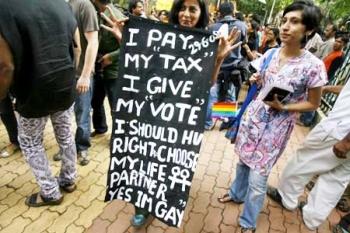 Shying away from taking any stand on gay sex, the government on Thursday virtually left it for the Supreme Court to decide on the 'correctness' of the Delhi High Court order decriminalising homosexuality.
The Union Cabinet, chaired by Prime Minister Manmohan Singh, considered the report of the three-member Group of Ministers formed on the issue and decided that Attorney General G Vahanvati will 'assist' the Supreme Court on it.
"The Cabinet decided to ask the attorney general to assist the Supreme Court in every way desired by it in arriving at an opinion on the correctness of the judgment of the High Court," Information and Broadcasting Minister Ambika Soni told reporters.
To a volley of questions, she repeated the same formulation of her statement and said the Supreme Court can decide if the high court was 'right or not' in decriminalising gay sex.
She refused to say anything more on the issue, maintaining that she was not authorised to explain further as the matter related to Cabinet proceedings.
The Cabinet decided against taking any stand on the issue to avoid getting caught in any controversy, a minister said, explaining why it was left for the apex court to take a view.
The Delhi High Court had passed an order about two months ago legalising sex between consenting gay partners, earlier considered a criminal act under Section 377 of the IPC.
Some religious bodies opposed it. A Christian organisation, a disciple of Yoga guru Ramdev and the Delhi Commission for Protection of Child Rights have approached the Supreme Court, which sought the government's response by October 1.
The Supreme Court had earlier refused to stay the high court order, saying it would await the response of the government.
In view of the sensitive nature of the issue, the government set up a Group of Ministers comprising Home Minister P Chidambaram, Health Minister Ghulam Nabi Azad and Law Minister Veerappa Moily, to formulate a view on it.
The GoM was understood to have suggested that the government should not take a stand but leave it to the Supreme Court to decide.
Indicating the GoM's view earlier this week, Moily had said the Cabinet should not be expected to take any stand as the government would only assist the Supreme Court in arriving at the 'right' decision.
"The decision has been already given by the Delhi High Court (decriminalising gay sex). The only question is certain appeals have been filed before the Supreme Court in which we (government) are not the party...the parties are petitioners and respondents. Our law officers will deal with the question," he had said.