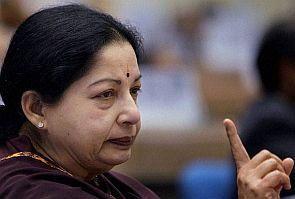 Continuing its winning streak, the ruling All India Anna Dravida Munnetra Kazhagam on Sunday retained the Yercaud (ST) assembly constituency, with party nominee P Saroja romping home with a massive margin of 78,116 votes against her DMK rival V Maran.
Saroja, widow of AIADMK legislator C Perumal, whose death necessitated the bye-election, secured 1,42,771 votes, leaving Maran far behind with 64,655 votes.
As many as 4,431 voters opted for None of the Above, introduced in the state for the first time in this bypoll.
AIADMK supporters plunged into celebrations mid-way through the counting by bursting crackers and distributing sweets after Saroja started leading from the very first round.
In a record turnout, 89.24 per cent of over 2.40 lakh voters had excercised their franchise on December 4.
Since coming to power in 2011 after dethroning arch rival DMK, this is the ruling party's fourth electoral triumph in bypolls held so far, earlier winning Tiruchirappally (West), Sankarankoil (SC) and Puthukottai.
Gloom descended on the DMK camp in the wake of its dismal performance in the election despite the fact that it had left no stone unturned to upset the AIADMK's winning run.
Senior leaders and DMK chief M Karunanidhi's children -- M K Stalin and Kanimozhi -- had vigorously campaigned for Maran but their efforts failed to deliver results.
AIADMK supremo and Chief Minister J Jayalalithaa described the win as an "acknowledgement and recognition" of her government's pro-people policies.
"The voters of Yercaud have acknowledged and recognised that the fruits of the two and a half years of AIADMK government's welfare schemes have reached the people," a visibly elated Jayalalithaa, surrounded by beaming party supporters who thronged her PoesGarden residence in Chennai, said.
When reporters sought Jayalalithaa's response over the trends of the counting in the four northern states, including in Delhi, she quipped, "Allow us to enjoy our victory. I will speak in greater detail (about them) on another occasion."
She thanked alliance party leaders, including the Communist Party of India and her own party supporters besides voters of Yercaud for reposing their faith in her party's candidate.
Reacting to his party's drubbing, DMK chief M Karunanidhi alleged the ruling party won the election by foul means, including money power and violating election Model Code of Conduct.
"Therefore, (whatever) their victory cries may be, one cannot ponder what price was given to buy that win," he said in a statement.
Apparently seeking to enthuse the morale of disheartened party workers, he exhorted them to use such losses as stepping stone for success in future and thanked those who had voted for the DMK.
Later, Jayalalithaa exhorted party workers to work with the same zeal to ensure the AIADMK won all 40 seats in Tamil Nadu and Puducherry during next year's Lok Sabha polls.
"Only a complete victory for AIADMK will enable us make a significant contribution for a good rule and governance at all-India level, and I desire that the victory in general elections will be on similar lines to the Yercaud bypoll victory," she said in a statement.