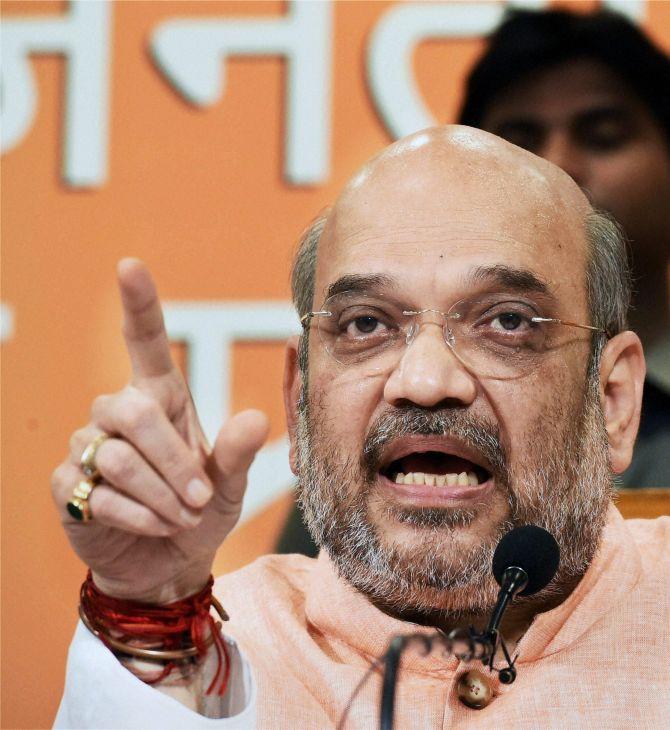 In a sharp attack on Rahul Gandhi for questioning the work done by Narendra Modi in last two years, Bharatiya Janata Party President Amit Shah on Tuesday said the biggest thing that his party's government has done is to give the country a prime minister who speaks.
"Rahul baba has asked what Modiji and his government has done in the last two years. Rahul baba, what do you ask from us. The biggest thing we have done is to give the country a prime minister who talks.
"During your times, for ten years no one except you and your mother heard the prime minister speak. The people of the country craved to hear the prime minister for ten years," he said.
Attacking the Congress for repeatedly questioning Modi's foreign trips, the BJP chief said in the past no one would even know about the prime minister's foreign trips but such visits were now being noticed because Modi received "massive receptions" during his tours overseas.
He took a dig at former Prime Minister Manmohan Singh, claiming he only read out two typed pages during his trips abroad "sometimes even mixing up papers to be read in Thailand and Malaysia".
"No one in the world earlier knew of any foreign trip of the prime minister. Today, they know because Modiji gets a rousing reception wherever he goes. This welcome is not for the prime minister. It is not even for BJP. It is for the people of Uttar Pradesh who made Narendra Modi an MP and PM," Shah said.
He alleged the United Progressive Alliance rule, which was supported by the Samajwadi Party and the Bahujan Samaj Party, was "full of scams" and scams to the tune of Rs 12 lakh crore took place during that time.
"They left no place whether it is the skies, water, earth and beneath the surface where corruption and scams did not take place," Shah quipped while listing out various scams during UPA rule.
The BJP chief said, "There is not a single allegation of corruption against the present government" and added that Modi government has provided a corruption-free rule.
Image: Bharatiya Janata Party President Amit Shah addresses a press conference in Lucknow. Photograph: Nand Kumar/PTI