The Congress and JD-S have made much of Amit Shah's remarks about milk co-operatives.
'If the Opposition harps on the statement, it could add to the narrative that Gujarat was trying to take over Karnataka.'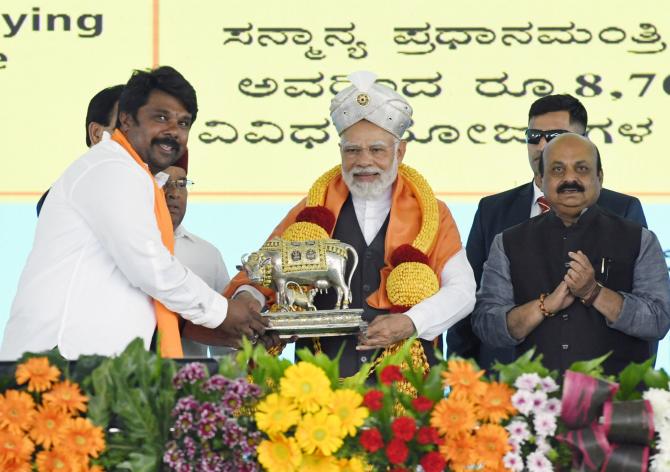 With four months to go before the Karnataka elections, the Bharatiya Janata Party has hit the ground running with public meetings addressed by Union Home Minister Amit Shah and many others.
The Jana Sankalpa Yatra, traversing backward districts such as Raichur and Ballari, was underway and, alongside, the BJP embarked on a house-to-house contact programme.
Its focus was on the Old Mysuru region in the south and central Karnataka if it was to cross the hump and touch a majority, which eluded the BJP since its first serious shot at power in 2008, when it was two short of the half-way mark.
"For 20 years, the BJP was not actively working in the Old Mysuru area. There was no local leadership. But for five years, we have built local leaders in Mysuru, Mandya, Chamarajanagar, Hassan, and Ramanagara. Hassan is (H D) Deve Gowda's stronghold while Ramanagara is (Karnataka Congress president's) D K Shivakumar's area. Our target is to win four assembly seats in each of these districts," said Ashwath Narayan, state BJP general secretary.
However, two recent statements by top BJP leaders put the party in a fix. The statements came from Shah and Nalin Kumar Kateel, the state BJP chief.
On December 30, inaugurating a Rs 260 crore (Rs 2.6 billion) mega dairy plant in Mandya district, Shah, who is also Union cooperative minister, lauded Karnataka for the strides made in the milk cooperative sector.
In a video recording, Shah said: 'I come from a state (Gujarat) where a White Revolution changed farmers' destiny ... I want to assure farmers that Amul and Nandini (the brand name under which the Karnataka Milk Federation, or KMF, markets its products) can work together to set up primary dairies in every village (of India) so that in three years not one village will be without a primary dairy ... and Gujarat and Karnataka together will work very well towards making farmers prosperous.'
Deve Gowda was on the dais and commended Shah for working tirelessly to curb corruption in cooperative banks and empowering dairy farmers.
Deve Gowda's son and Janata Dal-Secular leader H D Kumaraswamy in a tweet implied that Shah hinted at an Amul-Nandini 'merger' and warned, 'The KMF is not only the lifeline of our farmers, but it symbolises the pride and self-respect of Kannadigas. Better if Amit Shah understands this.'
Siddharamaiah, former CM, alleged the 'Amul-Nandini marriage' was a 'sell-out to Gujarat corporate leaders'.
A Karnataka BJP leader said: "The Nandini brand cannot be compromised. If there's a merger the marketing rights should vest with the KMF."
In a rectification campaign, BJP Spokesperson Ganesh Karnik maintained: "Nandini and Amul are independent cooperatives. The minister only said we can learn from one another."
Ashwath Narayan, who has worked in Mandya, the heart of Karnataka's dairy business, contended: "Without consulting KMF shareholders and holding a general body meeting, no merger can happen."
Vikas Puttur, who heads the Karnataka BJP's social media cell, said: "The JD-S and Congress have a good presence in Mandya and Old Mysuru. After Shah's rally, they are worried about losing their grip. People are convinced that the BJP government has no hidden agenda."
Narendar Pani, who teaches at Bengaluru's National Institute of Advanced Studies, said: "The Nandini experiment was a regional success. If the Opposition harps on the statement, it could add to the narrative that Gujarat was trying to take over Karnataka, which won't go down well with people."
On January 2, addressing the BJP booth workers at Mangaluru, Kateel said: 'I am asking you people, don't speak about small issues like roads and sewage. If you're worried about your children's future, and if you want to stop love 'jihad', then we need the BJP.'
D K Shivakumar's response was: 'While we (Congress) are focusing on development, job creation, hunger, price rise, they are just playing on people's emotions.'
Asked what the campaign theme would be, Pratap Simha, Mysore-Kodagu MP and Karnataka BJP vice-president, said, "It is development from start to end ... Among other things, we have launched a multi-village drinking-water scheme, which will bring three taps to every home. Every Muslim house too will get three taps."
The BJP has other issues on hand, the principal ones being the heated dispute over the claim on Belagavi (Belgaum until 2004) between Karnataka and Maharashtra and the uproar in Goa after the Centre approved the Mahadayi river project for Karnataka.
Interestingly, Maharashtra and Goa, like Karnataka, have a BJP government so the Centre will have to summon its political skills to effect a truce, if only transient.