Tamil Nadu Chief Minister M K Stalin on Saturday reassured his Bihar counterpart Nitish Kumar that all migrant workers are safe in the state and he asserted that swift action would be taken against rumour-mongers spreading panic.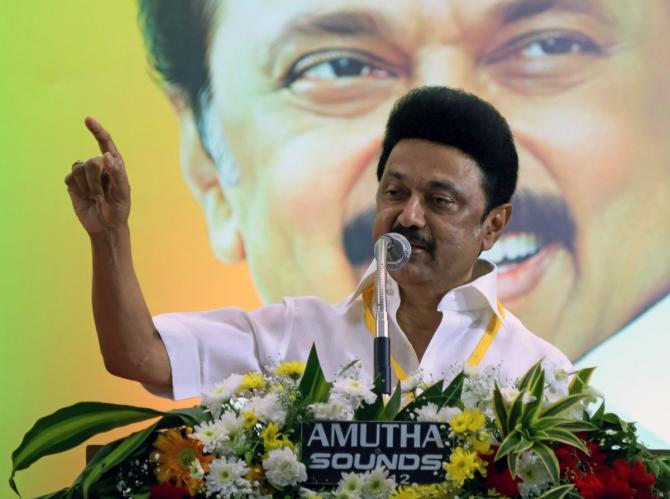 Stalin said he spoke to Nitish Kumar over phone and assured him that no harm would befall workers and conveyed to him that 'all workers are our workers who help Tamil Nadu's growth and nothing will happen to impact them, I have assured him'.
Addressing Kumar as his 'revered brother', the chief minister said in an official release in Chennai that workers from northern States need not have any kind of apprehensions over working in Tamil Nadu.
In the unlikely event of somebody intimidating them, they may immediately inform police and immediate action shall be taken.
The chief minister's reassurance comes against the background of false claims in social media platforms that migrant workers, especially 'Bihari labourers' in Tamil Nadu were attacked.
Stalin said: "Those spreading rumours that workers from other States are being attacked in Tamil Nadu are against the Indian nation, they infringe the national integrity. Some doing cheap politics over a non-issue is condemnable."
He asserted that stern legal action would be taken against those spreading panic through rumours.
Some incidents that happened outside of Tamil Nadu were spread by falsely claiming that such incidents took place in TN, he said.
Tamil Nadu is known for its hospitality and supports people who come and settle here.
"People who have come to Tamil Nadu from the northern States and live here will vouch for this better than we do."
People from various States, who come to Tamil Nadu for trade, profession, health, education and work have not only witnessed growth but also contributed to the development of TN's economy, Stalin said lauding the contribution of migrant workers on the economic front.
In the recent past, there has been an increase in the number of workers from other States coming to Tamil Nadu in search of employment opportunities.
"This is due to the fact that here, employment opportunities exist in various sectors such as service sectors, construction, small and large industries. The reason why a large number of labourers from different states come to the State is the assurance that if one arrives in Tamil Nadu, he or she will certainly get work and have a peaceful life," Stalin said.
The Tamil Nadu government provides necessary basic amenities to workers of all States and due benefits and protection under various labour laws are ensured he said and detailed the welfare schemes extended to lakhs of migrant workers during the Coronavirus pandemic.
"A website has also been created for all migrant workers in Tamil Nadu to register their names. We are taking care of all the workers from outside the State with kindness."
Some people who cannot tolerate this peaceful atmosphere are trying to denigrate the culture of the Tamil people with the an ulterior motive to fetch a bad name to the government.
Their ulterior motives would not succeed and workers from other States living here know that the peaceful atmosphere is intrinsic to Tamil Nadu.
"That is the reason why labourers are coming to Tamil Nadu from other States at all times, and Tamil Nadu always welcomes them."
Tracing the beginning of rumour-mongering, he said it started when a journalist from Bihar circulated (indicating a video clip) an incident that happened outside of Tamil Nadu involving two individuals and claimed that it occurred in TN.
"Therefore, I appeal to the TV channels, social media channels and those who use the social media platforms to realise their social responsibility and publish news in accordance with media ethics and not to publish news for sensationalism without checking the facts."
Bihar Chief Minister Nitish Kumar had asked officials on March 2 to look into reports of attacks on migrant workers in Tamil Nadu and his deputy Tejashwi Yadav faced criticism from the opposition BJP for visiting TN.
The Saffron party's Bihar unit chief Sanjay Jaiswal had claimed that Biharis were 'killed' in Tamil Nadu.