Will the government wait for a new law or start counting the invisible workforce now?
Somesh Jha reports.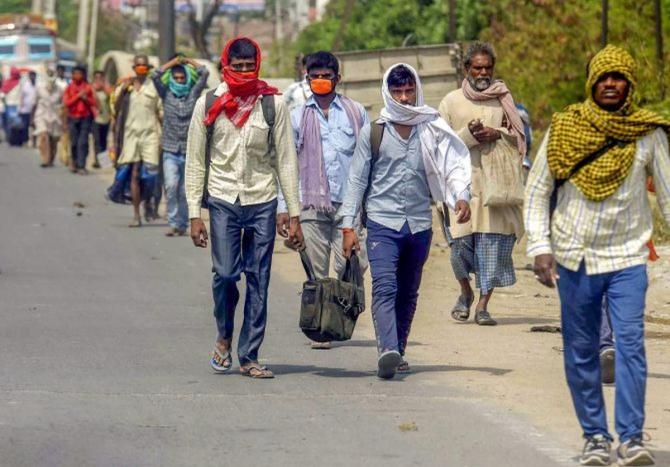 Labour and Employment Minister Santosh Kumar Gangwar caused quite a stir on social media recently when he stated, on the first day of Parliament's monsoon session, the Centre does not have any data on the death of migrant workers during the lockdown.
As is the practice, when MPs raise questions in Parliament, the response of the minister is routed through the bureaucracy.
The responses are often carefully-crafted to avoid any Parliamentary breach.
After pressure from Opposition parties, the labour minister told Parliament that the government is collecting data on suicides by migrant workers from the state governments.
A senior labour ministry official said it's estimated that 900-1,000 migrant workers died across the country during the lockdown.
"But since the data is based on empirical evidence, it wasn't feasible to provide such an estimate in Parliament. The implementation of labour laws is up to state governments, which may have collected these figures," the official contended.
It's not as if the data hasn't been collected in one or the other form.
There are researchers who have tried to map such a dataset.
A website created by researchers and students, actively sourcing data points from various news portals, mentions more than 200 deaths happened because of accidents during migration, 96 deaths in Shramik Special trains (Railway Minister Piyush Goyal informed the Rajya Sabha about 97 deaths), 49 at quarantine centres, and so on.
It is worth noting that this data may be severely under-reported.
The central government did tell Parliament that there were 10.4 million workers who returned to their home states during the lockdown, based on information provided by state governments.
On its part, the Union labour and employment ministry did try to create a database on migrant workers known as the 'National Portal for Covid-19 Affected Unorganised Migrant Workers'.
This was supposed to gather details of all the unorganised sector workers who were stranded in relief camps, residential and industrial clusters during the lockdown.
But the project was shelved mid-way as the government opened up transportation lines to allow migrants to return home in May.
In reality, India does not have reliable data on the migrant worker population.
The standard response given by the government in Parliament whenever such a question is raised by lawmakers is that there are an estimated 100 million migrant workers in the country.
The source of this dataset is the Economic Survey of 2016-17 which stated the share of migrants in the workforce is estimated at 17-19 per cent.
"If the share of migrants in the workforce is estimated to be even 20 per cent, the size of the migrant workforce can be estimated to be over 100 million in 2016 in absolute terms," it stated.
The survey did create a 'Cohort-based Migration Metric' to show about 9 million people migrated annually for work from 2011 to 2016, against 6 million on an average from 2001 to 2011.
In a recent response to a Right to Information application filed by activist Anjali Bhardwaj, the Union labour and employment ministry stated there were only about 84,875 migrant workers working in 372 establishments between 2010-11 and 2019-20, according to its records.
In fact, there were no migrant workers registered in Delhi, Patna, Dehradun, and Jabalpur in 2019-20.
This is largely because the Centre goes by the Inter-State Migrant Workmen Act of 1979 to recognise migrant workers in legal parlance.
"There is no identification of migrants as such. The 1979 law states that only in cases where a licensed contractor takes a worker from one state to another, they will be recognised as 'inter-state migrants'. Those who migrate on their own for work to another state are never captured in their home states either," said Bhartruhari Mahtab, standing committee on labour chairman.
He has written to Gangwar recently asking him to ensure that states collect data on migrants.
Centre for Policy Research fellow Mukta Naik was willing to give a benefit of the doubt to the government as it was involved in managing and controlling coronavirus and states lacked the bandwidth to collect such information in the middle of a pandemic.
"It is theoretically possible to do a triangulation and map the migration trend through various sources, such as the railway data or through telecom operators, but we haven't seen any efforts by the authorities thus far," she said.
She said there was no uniformity among states in terms of collecting a dataset of migrants during the ongoing pandemic and differences in lockdown regulations made it all the more difficult.
"The best way forward is to register unorganised workers and allow them to change their current location whenever they move," said Naik, who has done extensive research on internal migration.
The Centre is planning to remove the anomaly in the law to recognise all workers who travel to another state, either on their own or through a contractor, as migrant workers.
Additionally, such workers, but only those who earn up to Rs 18,000 a month, will be registered on a common portal, according to a proposed law known as the Occupational Safety, Health and Working Conditions Code.
There will be no mandatory registration of such workers and only those who want to avail social security benefits will be captured in the new dataset.
The government has also proposed collecting statistics related to migrant workers, along with giving them an option for self-registration on a portal.
A separate identification number will also be given to migrant workers.
"If we make registration process mandatory before allowing any migration to take place, it will prove to be counter-intuitive as it will act as deterrence towards job creation," a labour ministry official said.
But law takes its own course.
The Code on Wages, which seeks to provide minimum wages to the entire workforce for the first time, became law in August 2019.
But so far, the law hasn't been implemented as the rules remain to be notified.
The important question to ask is: Will the government wait for a new law or start counting the invisible workforce now?