Security forces found two bodies from the Gadole forest area in Jammu and Kashmir's Anantnag district on the sixth day of an anti-terror operation on Monday even as Lieutenant Governor Manoj Sinha vowed to avenge the death of three officers and a soldier, who were killed by terrorists in an encounter.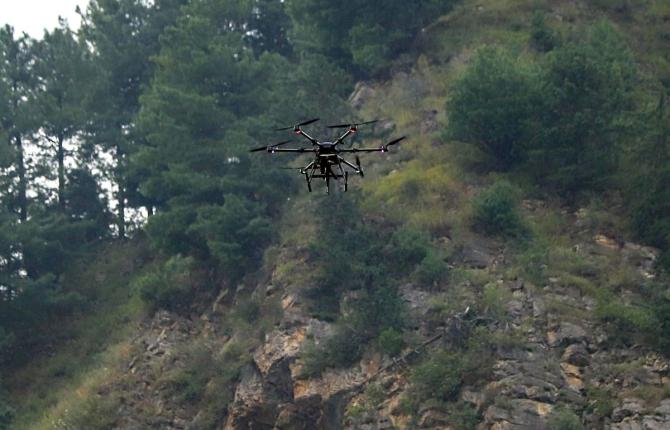 Two bodies were found from the forest area. One of the deceased was identified as Pradeep, the soldier killed by the terrorists on Wednesday, sources said.
The identity of the other deceased is being ascertained.
Colonel Manpreet Singh, Commanding Officer, 19 Rashtriya Rifles, Major Ashish Dhonchak and Deputy Superintendent of Jammu and Kashmir Police Humayun Bhat were killed by the terrorists on Wednesday.
Pradeep went missing on the first day of the encounter and was believed to have been killed.
However, police have maintained a silence on the operation for the last three days.
Earlier, officials said drone footage showed a charred body near one of the terrorist hideouts destroyed during the operation over the last six days.
Any further information about it could be made available only after the security forces sanitised the area, they said.
The security forces are using drones and helicopters for surveillance of the dense forest area with several cave-like hideouts where the terrorists are believed to be holed up since Wednesday, the officials said.
The security cordon was extended to the neighbouring Posh Kreeri area on Sunday as a precautionary measure to ensure that the terrorists do not slip into civilian areas.
Addressing a function here late on Sunday evening, the LG said every drop of blood of the slain security personnel will be avenged and the terrorist handlers will have to pay a heavy price.
"We have complete faith in our soldiers.... The entire nation stands in solidarity with the jawans," Sinha said.
He claimed that the attack on security forces in Anantnag was a result of the frustration among the terrorist ranks due to the successful conduct of the G20 Summit and the crackdown on conflict profiteers in Jammu and Kashmir.
Sinha said the time had come to put an end to terrorism and the ecosystem that has suppressed the common man in the Union Territory.
Top officials of the security grid in Kashmir, including the director general of police (DGP) and general officer commanding (GOC) of the Army's 15 Corps, have been monitoring the operation. The Northern Army commander visited the site of the gunfight on Saturday to take stock of the operational situation.
Police believe two to three terrorists are trapped in the forest area.
Additional Director General of Police (Kashmir) Vijay Kumar said on Friday that the operation was launched on the basis of specific inputs and claimed that 'two to three trapped terrorists will be neutralised'.