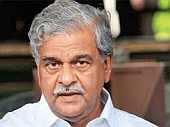 After Union Minister Beni Prasad Verma, his colleague Sriprakash Jaiswal has earned the wrath of the Samajwadi Party which on Saturday demanded that the prime minister sack him from the Cabinet for levelling allegations of corruption against the Uttar Pradesh government.
"Immediate resignation should be taken from the minister.... If he does not do so, he should be sacked from the Union Cabinet. The prime minster should give him a lesson about the democratic setup and then he can be re-inducted, if needed," senior SP leader and UP minister Shivpal Yadav told reporters in Lucknow.
Yadav's outburst came after Jaiswal is said to have accused the SP government in the state of misusing central funds for distribution laptops and tablets at a meeting in Lucknow on Friday.
"The name of the minister came in coal scam.... He will not come clean in the scam. Due to him, PM's name also cropped up in the scam. The PM should first give him lessons so that he can take the responsibility as a minister," Yadav said.
He said that in the democratic setup, it was the right of the state government to get money from the Centre. Alleging that the Centre released only 40 per cent of the money entitled to UP, Yadav said that had the total amount be given to the state, its development would have become easier.
"The Centre has given only 40 per of Uttar Pradesh's share. But we did not complain about it and are ensuring development with our own resources," he said.
On Jaiswal praising Gujarat's growth, Yadav said that he should tell whether his party had any pact with Chief Minister Narendra Modi.
"The minister's praise raises suspicion.... He should tell whether his party has any pact with him (Modi). As far as development of Gujarat is concerned, it was due to industrialists not Modi," he said.
The Samajwadi Party, which has been supporting the United Progressive Alliance government at the Centre form outside, has been involved in a bitter spat with Union Steel Minister Beni Prasad Verma.
Verma had accused SP chief Mulayam Singh Yadav of having links with terrorists and taking commission from the Congress for providing outside support following which the SP demanded Verma's resignation,
The minister later expressed regret but continued with his attack on SP saying that the coming Lok Sabha elections will mark the "funeral procession" of the SP.
The SP hit back with Shivpal Yadav even accusing Verma of "smuggling opium" and using "charas".