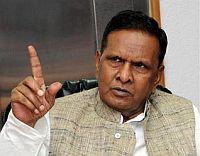 As the war of words between Union minister Beni Prasad Verma and SP supremo Mulayam Singh Yadav reached a crescendo, Congress sought to maintain an arm's length from the imbroglio, describing it as "personal issues" between two individuals.
However, party spokesperson Renuka Chowdhary hailed the Union minister as a "senior man and seasoned politician".

Congress' apparent soft-pedalling of the issue came a day after SP chief Mulayam Singh Yadav's brother Shivpal Yadav accused Beni of "smuggling opium" and using "charas".
Chowdhary termed the war of words between the SP chief and Beni as "two individuals trading charges against each other."
While referring to Shivpal's jibe, the Congress leader said, "as far as new allegations (of Shivpal) are concerned, those who have said so and are levelling such allegations should also substantiate them. Merely making statements won't do."
When the controversy had first erupted with Beni alleging that the SP chief had links with terrorists, Congress had snubbed him saying the party does not share the view and those in public life should speak with decorum.

Congress President Sonia Gandhi had also told the SP chief that she does not approve of such comments, which brought an end to the controversy.

Beni also expressed "regret", stopping short of making an apology as demanded by the SP.
However, the war words renewed with the Union minister, a few days back, again hitting out at the SP saying that the coming Lok Sabha elections will mark the "funeral procession" of the SP. Shivpal's comment last night saw the controversy hitting a new low.
Chowdhary on Monday said, "We are not commenting on Beni ji as he is a senior man and seasoned politician who knows what he is doing. He can account and answer for what he has to say."
She also evaded a reply when asked whether SP leaders praising L K Advani and the NDA indicate an increasing bonhomie between the two. A section in the party, though, did not discount the possibility of Beni cosying up to BSP. "Ask them" was her brief reply.

The Congress spokesperson strongly rebutted when asked whether the Union ministers belonging to Congress have been given the sanction to trade charges against leaders of a supporting ally.

"Not at all. We believe there has to be self-discipline, a self regulation," she said but caveated her response by saying that she was not saying in reference to any particular individual including Beni Verma.

To a question whether the SP chief should also seek apology for his brother's recent remarks against Beni, Chowdhary said "let us see what Mulayam ji does. Now it is up to him."

Chowdhary said she feels bad to see such remarks being made in public discourse. "This lowers the standard of public discourse. I am saying it for everybody, who comes in politics and there is a decorum that should be maintained," she said.

She described the earlier remarks of Beni against Mulayam as "personal opinion, he made about certain people and certain parties...We do not want to get into personal issues".

The Congress spokesperson at the same time reminded that Beni had "not used such words against any one" referring to Shivpal's attack on the Union minister.
There are conflicting views in the party over the sparring between Verma and the SP.
While a section believes that Verma had the blessings of the Rahul Gandhi, who want to rebuild the party in Uttar Pradesh and hence cannot afford to be seen cosying up to the ruling party of the state.
Some leaders are also of the view that Verma could be warming up to the BSP and his tirade against Mulayam is uncalled for at this stage when the UPA government is already battling a number of problems.

"There is no game plan. Why would we do it in the middle of a Parliament session, when DMK has left us and we need SP's support for crucial bills," a leader said.

The leader at the same time rejected the possibility of Beni's exit from the Cabinet saying BSP would then immediately lap up him after his no-holds barred attack against the SP chief.