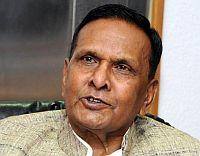 Showing no signs of relenting in his tirade against ruling Samajwadi Party, Union minister Beni Prasad Verma on Saturday alleged the party supremo Mulayam Singh Yadav has "cheated minorities" and had a tacit understanding with the Bharatiya Janata Party.
The Gonda MP alleged that there was an understanding between Mulayam and BJP leader L K Advani in 1998 due to which the SP supremo was able to form government in Uttar Pradesh in spite of having only 135 MLAs.
"In 1998, when Atal Behari Vajpayee's government fell by one vote, he (Mulayam) had promised to support Sonia Gandhi.
"Later in the night, he had a talk with Advani at Jaya Jaitely's residence...There Mulayam asked Advani that he will not make effort to form the government, and in return the BJP leader asked him not to support Sonia and it was decided."
Beni claimed that Advani in his book has written that he would thank Mulayam that he followed his advice and later got five years term.
"As a reward, he (Mulayam) became the Chief Minister again in 2003. He had only 135 MLAs, Vajpayee was the prime minister and Vishnu Kant Shastri was the governor...Can a person having 135 MLAs could form a government in UP without the support of the ruling party," he alleged.
He alleged that anti defection law existed even at that time, but MLAs were brought and the then Vidhan Sabha Speaker Kesari Nath Tripathi validated all.
"It was always Mulayam's objective that Congress should not revive in UP," he alleged.
Beni alleged that it was his political analysis that Mulayam had always cheated minorities.
Verma also said that Mulayam's party will win only four seats in the Lok Sabha polls and there will be a 'funeral procession for the party'.
Beni, who recently triggered a storm by stating that Yadav allegedly has "terrorist links", said the "Congress will fight all the 80 Lok Sabha seats in UP and will win 40".

"We will not let BJP win more than 10 seats. Behenji (Mayawati) will win 36. And of whom you are talking about (SP) will win four seats and there will be a funeral procession for that party," the Congress leader told media persons at Balrampur.

He was replying to questions on the prospects of various parties in UP in the next Lok Sabha polls.

The Union Steel Minister's remarks come at a time when Yadav has been breathing fire against the government.

Verma had recently angered the SP chief by his comments against him.
Yadav had then demanded his resignation during meetings with Prime Minister Manmohan Singh and Congress chief Sonia Gandhi following which Verma had expressed regret.

However, after a brief lull, Verma had on March 23 launched another tirade against the Samajwadi Party chief, saying those "serving family interest" cannot be termed as socialists.


Yadav had on Friday said he had no plans now to withdraw support to UPA.
"Right now withdrawing support has not been discussed in the party. Now there is no question of SP withdrawing support to the UPA government," he said.
Prime Minister Manmohan Singh had on Thursday acknowledged the possibility of SP's withdrawal of support to UPA.
Samjawadi Party with 22 MPs is providing crucial outside support to the government.


Verma, who was addressing a 'Holi milan' function at Uttraula on Friday evening, alleged that the SP contested Gujarat Assembly elections to benefit Chief Minister Narendra Modi.

The minister alleged the state government was trying to take political mileage by distributing laptops from funds meant for the development of minorities and Dalits.
He said ensuring defeat of the SP and victory of Congress has become the objective of his life.
The Congress leader also alleged that the "state government was distributing cheques of Rs 20 lakh to those involved in killing of DSP Zia-ul-Haq in Pratapgarh and history-sheeters"