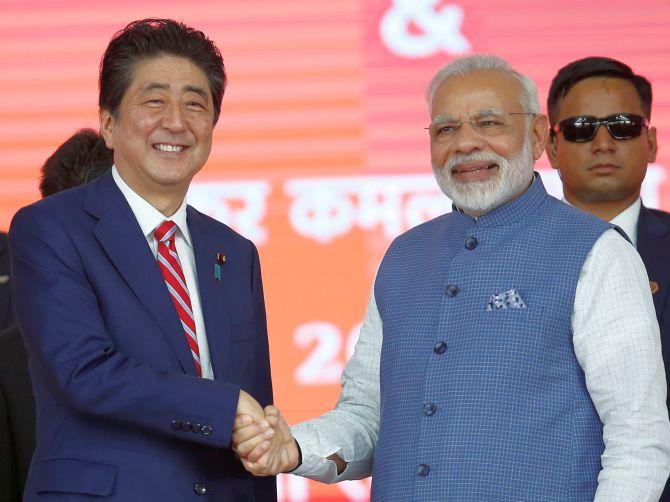 Deepening their strategic ties further, India and Japan on Thursday agreed to boost cooperation in the Indo-Pacific region in the midst of China's growing assertiveness and pitched for a 'zero-tolerance' in combating terrorism including towards Pakistan-based groups Jaish-e-Mohammed and Lashkar-e-Tayiba.
The two countries signed 15 deals in key areas, including civil aviation, trade after wide-ranging talks between Prime Minister Narendra Modi and his Japanese counterpart Shinzo Abe as they discussed ways to strengthen cooperation in strategic areas of defence, security, trade and civil nuclear energy.
The two leaders also deliberated upon important regional and global issues and affirmed strong commitment to their values-based partnership in achieving a free, open and prosperous Indo-Pacific region where sovereignty and international law are respected, and differences are resolved through dialogue, and where all countries, large or small, enjoy freedom of navigation and overflight.
But significantly, the joint statement issued after their talks did not mention South China Sea directly unlike last year's joint statement.
After the 2016 summit during Modi's visit to Japan, the joint statement had said, 'regarding the South China Sea, the two prime ministers stressed the importance of resolving the disputes by peaceful means, in accordance with universally recognised principles of international law including the UNCLOS' (United Nations Convention on the Law of the Sea).
Addressing a joint press event with Abe, Modi said, "The range of special strategic and global partnership is not just limited to bilateral and regional sphere. We have close cooperation on global issues as well."
In an apparent message to Pakistan, the two sides also called upon all countries to work towards rooting out terrorist safe havens and infrastructure, disrupting terrorist networks and financing channels and halting cross-border movement of terrorists.
The two prime ministers also called for Pakistan to bring to justice the perpetrators of terrorist attacks including those involved in Mumbai (2008) and the Pathankot (2016) strikes.
'They looked forward to the convening of the fifth India-Japan Consultation on Terrorism and to strengthening cooperation against terrorist threats from groups including Al Qaeda, ISIS (Islamic State), Jaish-e-Mohammad, Lakshar-e-Tayiba, and their affiliates,' said a joint statement issued after the Modi-Abe talks.
It said Modi and Abe condemned in the 'strongest terms' the growing menace of terrorism and violent extremism and shared the view that terrorism in all its forms and manifestations is a global scourge that must be forcefully combated through concerted global action in the spirit of 'zero tolerance'.
'Accordingly, the two prime ministers called upon all UN member countries to implement the UNSC Resolution 1267 and other relevant resolutions designating terrorist entities,' said the joint statement.
The reference also assume significance in the backdrop of China repeatedly blocking India's move to declared JeM chief Masood Azhar as global terrorist by the UN.
On his part, Abe said, "We have just signed a joint statement which will serve as a milestone to open a new era for Japan-India relationship... based on that we will strongly promote Japan-India special strategic and global partnership to drive peace and prosperity for Indo-Pacific region and the whole world."
Modi and Abe underlined that the two countries could play a central role in safeguarding and strengthening a rules-based order in the Indo-Pacific and to this end, they pledged to reinforce their efforts to enhance defence and security cooperation and dialogues, including the MALABAR and other joint exercises, the statement said.
During his press statement, Abe also referred to the recent Malabar Japan-India-US naval exercise and said cooperation would be further strengthened.
They also agreed for defence equipment and technology cooperation in such areas as surveillance and unmanned system technologies, and defence industry cooperation apart from aligning Japan's Free and Open Indo-Pacific Strategy with India's Act East Policy, including through enhancing maritime security cooperation and improving connectivity in the wider Indo-Pacific region, it added.
Japan's readiness to provide its state-of-the-art US-2 amphibian aircraft was appreciated as symbolising the high degree of trust between the two countries, which agreed to continue their discussions in this regard.
Earlier, the two leaders launched the bullet train project between Ahmedabad and Mumbai. Modi described the Rs 1.10 lakh crore project, which will cut travel time between the two cities from seven hours to less than three, as a 'big gift from Japan to India'.
Asked if the recent Dokalam episode between India and China was discussed during Modi-Abe meeting, Foreign Secretary S Jaishankar said it was not specifically discussed but there was a discussion on regional and global developments in broader sense. Japan was the only country, which had publicly spoken about Dokalam incident, pitching for a peaceful resolution.
India, Japan to set up working group to boost nuclear ties
Asserting that the India-Japan civil nuclear pact reflected a new level of strategic partnership, Prime Minister Modi and his Japanese counterpart said they looked forward to setting up a working group to boost cooperation in this arena.
Modi and Abe reaffirmed their commitment to work together for India to become a full member in multilateral export control regimes such as the Nuclear Suppliers Group, Wassenaar Arrangement and the Australia Group.
Abe also welcomed India's accession to the Missile Technology Control Regime and the Hague Code of Conduct against Ballistic Missile Proliferation.
India has applied for a membership in the 48-member Nuclear Suppliers Group in May 2016, but is facing stiff opposition, primarily from China.
'They (the two prime ministers) looked forward to a working group to strengthen bilateral cooperation in this field and reiterated their shared view that the agreement reflects a new level of mutual confidence and strategic partnership in the cause of clean energy, economic development and a peaceful and secure world,' according to a joint statement, released after the delegation level talks.
Referring to the nuclear pact, Modi, in a media statement after the delegation level talks with Abe, said it would open a new chapter in cooperation in the clean energy sector between the two countries.
"We had signed a historic pact for peaceful use of nuclear energy during my visit to Japan last year. I am whole-heartedly thanking Japan's parliament, its people and particularly Prime Minister Abe for its ratification," Modi said.
A civil nuclear pact is important for foreign players building atomic reactors in the country. The pact would enable them to procure high-end equipment from Japan.
"We really see Japan as a significant partner in many of our nuclear power projects which we will doing with other countries," Foreign Secretary S Jaishankar told reporters at a media briefing.
Image: Japanese Prime Minister Shinzo Abe with his Indian counterpart Narendra Modi condemned in the 'strongest terms' the growing menace of terrorism and violent extremism. Photograph: Amit Dave/Reuters