Jailed Aam Aadmi Party leader Satyendar Jain was admitted to an intensive care unit (ICU) at a government hospital in New Delhi on Thursday after he collapsed in the prison due to dizziness, prompting Chief Minister Arvind Kejriwal to target the Centre over his deteriorating health.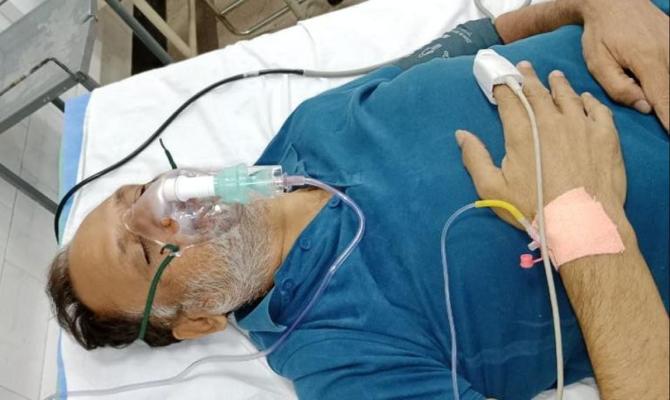 Earlier in the day, the AAP said former Delhi minister Jain was first admitted to the Deen Dayal Upadhyaya Hospital and later shifted to the Lok Nayak Jai Prakash Narayan (LNJP) Hospital due to breathing problems.
This was the second time in a week that the former minister was taken to hospital.
Jain has been in Tihar jail since his arrest by the Enforcement Directorate in connection with a money laundering case in May last year.
According to AAP sources, Jain has been shifted to an ICU at the LNJP Hospital and he was 'critically ill'.
The LNJP Hospital is the largest hospital under the Delhi government.
Jain was brought to the emergency department of the LNJP Hospital and doctors examined him, a senior doctor at the hospital said.
"Jain has some spinal issues. In the past too he was brought to LNJP Hospital to undergo treatment for it," he said.
The former minister collapsed in a bathroom of the Tihar Jail due to dizziness. Earlier too Jain had fallen in the bathroom and had a serious spinal injury, the AAP said.
Wishing a speedy recovery to Jain, Delhi Chief Minister Arvind Kejriwal tweeted, 'A dictator is adamant to punish the person who worked day and night to provide good treatment and good health to the public. God is watching and will serve justice to all. I pray for Satyendra Jain's speedy recovery. May God give him the strength to fight against these adverse circumstances.'
The AAP claimed that Satyendar Jain has become extremely weak and finds it difficult to walk.
'Due to his religious beliefs, Satyendar Jain has been living only on fruits and raw vegetables in jail. Suffering from severe muscular loss. Satyendar Jain has lost 35 kg while in prison,' the party said.
'Suffering from sleep apnea, he sleeps at night with the assistance of a BiPAP machine which continuously pushes air into his lungs,' the party added.
A senior jail official said that around 6 am on Thursday, under-trial prisoner Satyendar Jain slipped in the bathroom of the MI room of the hospital of central jail number-7, where he was kept under observation for general weakness.
He was examined by doctors and his vitals were found normal.
Jain was referred to the DDU Hospital as he complained of pain in his back, left leg and shoulder, the official said.
On Monday, Jain was taken to the Safdarjung Hospital as he was feeling unwell.