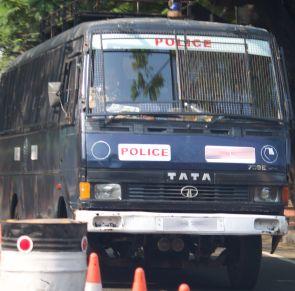 Two security personnel of Bharatiya Janata Party's prime ministerial candidate Narendra Modi were killed and five others injured when a speeding truck rammed into their vehicle on Friday, police said.

The deceased personnel, Bhailal (30) and Jairam (30), were in the bomb disposal squad vehicle of the Gujarat Police had taken a halt near Nathgram Ashram on Malkhanpur road under Sirsaganj area, when a speeding truck rammed
into their vehicle, Superintendent of Police Rakesh Singh said.
The team of security personnel was on their way to Patna.
The injured persons, identified as Dheeru Bhai, Mohan Singh, Virendra, Giri and Magha were immediately rushed to a hospital where condition of two persons is stated to be serious, police said.
The Gujarat chief minister is scheduled to visit Patna on Saturday to meet the family members of those killed in the blasts during his rally on October 27.