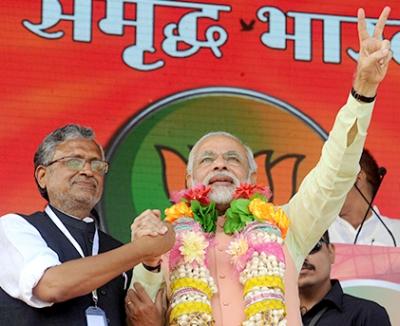 Sunday's serial blasts at his Patna rally is unlikely to affect the campaign schedule of Bharatiya Janata Party's prime ministerial candidate Narendra Modi, ahead of the upcoming assembly elections.
On November 8, Modi will address a rally in Uttar Pradesh's Bahraich. Following it, he will tour the four poll-bound states -- Rajasthan, Madhya Pradesh, Chhattisgarh and Delhi. The Bahraich rally is part of the BJP's strategy to reclaim its ground in eastern UP.
Modi will then address four rallies in Madhya Pradesh, two each in Rajasthan and Chhattisgarh and one in Delhi. The party has, however, not finalised the places where these rallies will take place. So far, Modi has already addressed a rally each in the poll-bound states. Party sources said Modi has also told the BJP to organise smaller meetings in these states, where he will address local issues.
Even as the party has started preparing for these rallies, party leaders confessed that security remains a major issue. Although an internal review of the security preparedness has been initiated, the party is finding itself in a helpless position.
"In Patna, whatever could go wrong went wrong," said P Murlidhar Rao, BJP's national general secretary. "But, we can't do much. The final responsibility of the security lies with the state police or intelligence agencies," he added.
Even as Home Minister Sushilkumar Shinde refused to include Modi under the category of people provided security by the Special Protection Group, sources in the ministry said Modi's security has been doubled.
"Modi has been given sufficient security. He does not need the SPG security," Shinde said. The SPG, which provides security to serving and former prime ministers, will need an amendment of its Act to include Modi.
The ministry officials said they have also written to all the state governments to provide adequate security cover to Modi during his rallies. At present, the Gujarat CM, categorised under Z-plus, is guarded by National Security Guard and the Gujarat police personnel. The responsibility of frisking the venue is that of the local police.
"We have recently increased Modi's security with twice the number of personnel because of heightened threat. The NSG provides security when the personality is mobile. In case the person or VIP is static, it is the responsibility of the state police to provide security shield," said a senior government official.
Party leaders, who have been associated with the organisation of BJP's rallies in Patna and Delhi, said the venue security is handled jointly by the local police and private security. In most BJP rallies, as was the case in Patna, the SIS Group provides the private security. SIS is owned by Ravindra Kishore Sinha, who is also associated with the BJP. In BJP's Patna rally about 1,700 private security personnel were deployed.
DIFFERENCE BETWEEN THE SPG AND NSG
Special Protection Group
* According to the SPG Act, its only mandate is to provide security cover to the prime minister, former prime ministers and the Gandhi family (but not to Robert Vadra who is married to Priyanka Gandhi)
* SPG is modelled on the lines of the United States Secret Service, which protects the US President
* It does recce of the venues before an event, sanitises the area and assumes charge of overall security
* The police has only a secondary role of assisting the SPG
* SPG has special weapons and specialised vehicles, which are armed with facilities such as satellite uplinks and mobile jammers
* SPG provides 24X7 security to its protectees
National Security Guard
* National Security Guard is as an elite anti-counter terrorism force
* NSG commandos also guard very, very important persons and very important persons of the country
* NSG security cover has been given to Bharatiya Janata Party leaders L K Advani, Rajnath Singh, Narendra Modi and Murli Manohar Joshi
* NSG only provides security when the VVIPs are travelling. The state police or central paramilitary commandos guard the VVIPs when they are not travelling
* NSG doesn't have special vehicles like SPG, but NSG commandos are armed with special weapons and form the inner security cordon
* Coordination is done by the state police forces, the Intelligence Bureau and the NSG headquarters

Image: Gujarat Chief Minister Narendra Modi with Sushil Kumar Modi at Gandhi Maidan in Patna, where there were blasts before his arrival

Photograph: http://www.narendramodi.in/