'There is no ministry yet in Karnataka and the chief minister will be under lesser pressure once the expansion happens. The ministers too will get involved in the relief operations and reduce the chief minister's burden.'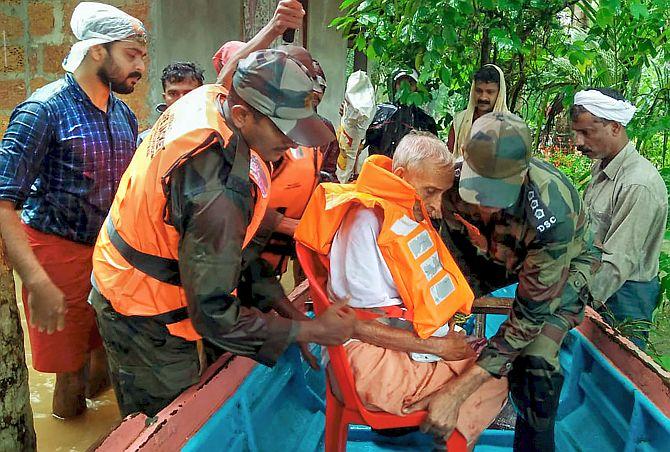 BJP MLA from Karnataka's Arabhavi constituency in Belgaum district, Balachandra Jarakiholi, who toured his constituency extensively to assess the damage wreaked by floods, tells Rediff.com's Prasanna D Zore, "Whosoever governs Karnataka or Maharashtra, they should put their heads together and act to protect people from such floods."
According to Jarakiholi, the flood relief operations will get more streamlined once Karnataka Chief Minister B S Yediurappa expands his ministry and more people get involved with helping the flood-affected.
What is the flood situation in the Belgaum district and your constituency of Arabhavi?
Twenty-nine villages have been affected in my constituency. 90,000 people stay in these villages as per the census of 2011. The waters from the Krishna and Koyna rivers have added to the woes of the people in Karnataka. The floods this time are so severe that when we went to people (before the floods) to vacate their homes and move to safer places, they refused to move telling us that flood waters have never reached these villages even when there was heavy flooding before.
This time, the release of water from these rivers added to the situation. Thankfully, we convinced them at the last moment and we were able to save precious lives. Only one woman has died in my constituency. But it could have been worse.
Then there is loss and damage to people's homes and we have appealed to the government to compensate the flood-affected for their losses.
How is the government planning to help the flood-affected people?
After the water started receding, we have done an aerial survey and the rough estimate as of now is that more than 6,000 houses have been damaged. The real impact can be assessed only after the water recedes completely and we will do a door-to-door survey.
My constituency is famous for the sugarcane crop and more than four lakh hectares of crop has been affected by these floods.
What kind of losses will the sugarcane farmers in your constituency face because of these floods?
Going by the estimates of (sugarcane supplied to) sugar factories last year, only standing crop worth Rs 100 crore might have been lost in the flood.
How is the Yediurappa-led BJP government planning help the people \cope with their losses?
The state government has announced a package of Rs 5 lakh for reconstruction of homes that have been devastated in the floods. But they have no household belongings with them right now and their rehabilitation in their homes has also been taken into consideration.
We are providing Rs 10,000 to all the affected people to buy household utensils and ration. Cheques of Rs 3,800 are already in the process of being distributed.
Our request to the state government is to give them Rs 10,000 cheque instead of making part payments so that people can start going back to their homes. The government is also looking into repairing damaged roads and schools in the Belgaum district.
How many people will get the Rs 5 lakh cheque? Has any assessment been done for providing commensurate relief?
The aerial survey is still going on and depending on the state of damage to the houses, in the next 15 days we will complete this survey and plan a package accordingly.
You said that people were hesitant to move saying that flood waters had never reached them before. How did it happen this time? Was there any mismanagement from the flood-control authorities in Karnataka?
The Hidkal dam in Karnataka got 110,000 cusecs (10 TMC; 1 TMC = 11,000 cusecs) of water from Gadhinglaj, Sawantwadi and Amboli areas of Maharashtra. Then there was additional flow of 100,000 cusecs from rivers like Hiranyakeshi and Markalin in Karnataka, and adjacent nullahs.
The Ghatprabha river (which absorbs waters from these rivers) does not have the capacity to hold this much water and so that resulted into flooding of areas that had so far remained unaffected.
Also, the storage capacity of Hidkal dam is 51 TMC, out of which the dam was full till 46 TMC because of the rains and storing additional water in the dam could have damaged it. So, water was also released from Hidkal dam.
The additional 210,000 water that poured into the Ghatprabha soon spread up to three kilometres away from its bank leading to these unprecedented floods.
We trust our government to offer maximum help to the people.
You had warned to topple the government if the flood-affected people are not adequately compensated. How will that help the flood-affected?
I was misquoted on this. I did not say anything like this. There was a misunderstanding by the reporter in understanding what I said in Kannada and I have already clarified that I have been misquoted on this issue.
Our chief minister is fighting alone (Yediurappa is yet to appoint his cabinet) against the disaster and we are hoping for the best from our CM.
Was there a lack of coordination between the flood control authorities in Maharashtra and Karnataka? The people of Maharashtra are blaming Karnataka for not opening the gates of Almatti dam in time resulting into floods in the districts of Sangli, Kolhapur and Satara?
There is no coordination at all. Let me give an example: During the summer months (April, May and June), the people of Karnataka had requested Maharashtra to release water 3 TMC (33,000 cusecs) water from Koyna because the rivers here were running dry and people did not have enough water for drinking and agricultural activities.
The Krishna river had run dry but water was not released from Maharashtra's Koyna dam.
During the summer, they (the Maharashtra government) did not release 3 TMC water and now they released more than 50,000 cusecs (close to 5 TMC) into Karnataka.
It is important that governments of both Maharashtra and Karnataka set up some mechanism to prevent and manage such disastrous flooding in the future. Whosoever governs Karnataka or Maharashtra, they should put their heads together and act to protect people from such floods.
You said the chief minister is battling the floods alone. What programmes has he announced to help the flood-affected people of Karnataka?
He is working against severe odds to get relief for the people of my state. He is covering almost three (flood-affected) districts every day and meeting people to understand their woes and assess their losses. He has warned that no form of corruption will be tolerated in relief distribution operations.
He is also planning to expand his ministry; there is no ministry yet in Karnataka and the chief minister will be under lesser pressure once the expansion happens. The ministers too will get involved in the relief operations and reduce the chief minister's burden.
Why is it that governments spring into action only after the floods to provide relief and don't do much to manage or prevent floods?
It is also the responsibility of the people to cooperate with the flood control authorities and evacuate their homes if they have been asked to. But sometimes people don't do it believing that flood waters will not reach them or affect them. Many people who stay in the areas that are always affected by floods have been given alternate homes and rehabilitation facilities but they don't move from their homes.
In my opinion, it is important to relocate these people to safer places where they won't get affected by floods.
But what do the governments do about managing and preventing floods?
The intensity and quantity of rains has decreased now in both the states and the flood waters are receding on its own. Water in the Ghatprabha river has come down to 30,000 cusecs from 230,000 cusecs and the people are voluntarily going back to their homes and the government is in touch with them for their rehabilitation.