'As a child, I believed my world record would be national pride. But I feel cheated now.'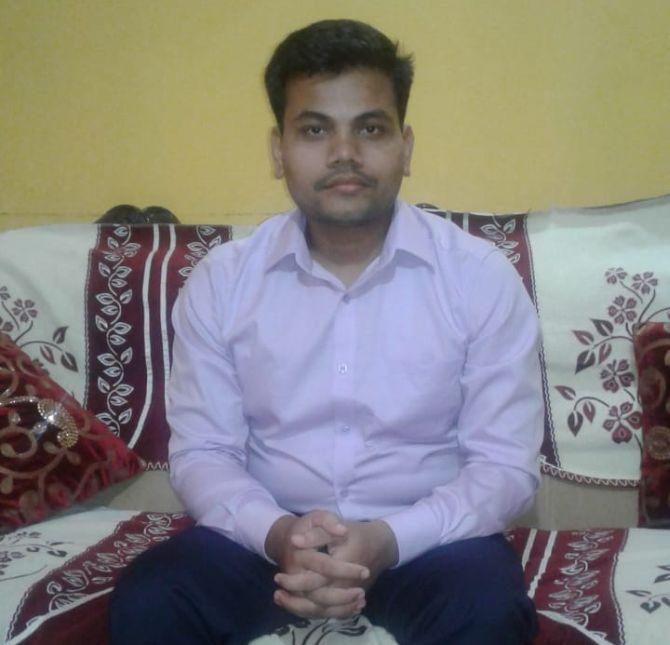 Tathagat Avatar Tulsi, for those who don't remember, was a child prodigy who finished high school at 9, completed his BSc at 10, MSc at 12 and went on to complete his PhD in quantum computing from the Indian Institute of Science at 21.
Climbing the stairs to success two at a time, Tulsi became the youngest professor in the country in 2010 when he joined Indian Institute of Technology-Bombay as an assistant professor.
In August, IIT-B sacked Tulsi for 'long absence' and 'grave misconduct'.
"Considering my condition to be extraordinary, I requested IIT-Bombay to refer my case to the honourable President for allowing me to be transferred to IIT-Delhi. IIT-B rejected my request," Tulsi, 32, tells Imran Khan at his home in Patna.
EARLIER ON Rediff.com
Why did IIT-B sack you?
I joined IIT-Bombay in 2010 and worked there up to December 2013. During this period, I developed some sleep problems.
Doctors advised me to relax and take long leave. They said the problem could have resulted from too much of study and hard work I did since early childhood.
So, I went on extraordinary leave without salary and increment from January 2014 to December 2017.
During the leave period, I found that my sleep problem surfaces only under humid weather.
In Patna too, during the month of August (it recurred) or whenever I go to Mumbai or Kolkata.
As the Mumbai weather is always very humid, especially from March to October, I understood that I cannot live there. I thought of resigning from my job.
I later discovered that my problem was basically because of the intense stress I took during August 1997 when I was 9 years old.
That year, I was included in Doordarshan's song Vijayi Vishwa Tiranga Payara for my achievement.
I could appear for the Class 10 exams at 9, setting a world record, because of a Delhi high court judgment.
In August 1997, the Central Board of Secondary Education challenged the order in the Supreme Court. I got very scared of losing the world record. I could barely sleep.
And that's how, I think, I developed a fear of humid weather.
Every time I'm in a humid climate, my mind becomes alert, not letting me sleep.
Considering my condition to be extraordinary, I requested IIT-Bombay to refer my case to the honourable President of India for allowing me to be transferred to IIT-Delhi.
Right now there is no provision for transfer of faculty from one IIT to another. IIT-B rejected my request.
In the rarest of cases, IAS and IPS officers can be allowed to change their cadre.
I believe my case is also one of the rarest, given my childhood achievements and, therefore, it could have been referred to the President.
IIT-Bombay never forwarded it and finally I was removed in August this year.
Did IIT-B issue you a show cause notice?
Yes. They told me in April 2018 that my request for leave extension has been rejected. I was asked to report on duty or resign.
I kept requesting for a transfer. In July 2018, I was charge with 'unauthorised absence' as per service rules.
In October 2018, they held an inquiry on the charges.
Do you think it was proper to treat a talent like you in this way?
Obviously not. My medical condition is only because of my childhood attempt to set a world record. All rules were broken then for me.
But now, I can't be an exception to an ordinary rule of transfer.
In October 2018, IIT-B wrote to me that the validity of my reasons for absence from service will be examined by the board.
But without any such examination, the board proposed to remove me from service in 2019.
Did you expect that?
No. It was unexpected. I was hoping that IIT-Bombay would examine the validity of my reasons. They removed me without doing that.
I was very confident that the board would help me and refer my case to the President.
Isn't it a controversial decision?
I believe they should have examined my claim about my sleep problem being connected to humid weather.
Even the hospital at IIT-Bombay refused to examine the claim. They said it does not matter as there is no scope for my transfer to IIT-Delhi.
Though I won't sit silent and will keep trying, I am feeling low now. Court cases take too much time.
I hoped getting support from the public and the media. They supported me to a large extent.
I also tried to meet the prime minister during May-June 2018.
Now I know how tough it is for an ordinary person to meet the PM.
I believe my case is extraordinary. Even if he doesn't meet me, it would be great if he can intervene to help me get my job back.
Will you approach the President or PM directly to seek their intervention in your case?
Of course. The IIT Act needs a minor amendment to allow a transfer in extraordinary cases.
That amendment can only be effected by Parliament.
For transfer of IAS officers, an amendment was brought in November 2004 by the then government.
A similar amendment for IITs can save my job. Otherwise, I feel hopeless.
Have you sought help from Bihar Chief Minister Nitish Kumar?
No. I never approached him because the IITs are under the central government.
I will try to approach Patna-based leaders after Chhath Puja.
Till then I am busy preparing a formal appeal to the President.
However, if the IIT Act is not amended, my appeal won't be of much use.
Once I file the appeal, I will campaign actively to bring that amendment. It is actually a very ordinary change.
I have no option right now.
What will be your next step? Will you mobilise support in your favour?
I do not know what to do. I can only request help from the media. That is what I did a few years ago.
But I do not see any results. The problem that happened to me can happen to anyone in the future.
I know how tough your life becomes when you have a sleep disorder.
When I know that it is only because of humid climate then the law should allow for transfer.
A genius like you would have got special treatment in a foreign country. Why it is not the same with India?
Thank you for your compliments, but how can I answer this question? If the Indian system is like this, then what can I do?
I tried my best to communicate my problems so that I can get help.
You would have got help and support in a Western country.
Yes. But I need just a small help in the form of a transfer on the basis of valid health reasons. That too a condition that I developed subconsciously.
As a child, I believed the world record would be national pride. A belief that was supported by the extraordinary orders of the honourable courts.
But I feel cheated now.
How are you managing your problem now?
In Patna, I do not have any sleep problem. I have had no problem since 2014, except during humid conditions.
In August, whenever it is very humid in Patna, the problem recurs.
But in Mumbai, I have it all the time because Mumbai is always very humid.
When a genius like you is jobless, what will happen to millions of youth who are not well educated or skilled?
I am jobless at present. But I am hopeful of getting my job back. I worked very hard to get into IIT-Bombay.
It is not my fault if the climate worked against me and affected my health.
If you do not get your job back, will you join other institutions?
I've been approached (by other institutions). But it is not so easy. The application process only takes a year.
What can I do? I have nothing to hide. I am telling the truth.
Just because the law doesn't allow, extraordinary cases cannot be treated in the usual way.
Do you plan to settle abroad?
I am not planning to settle abroad. I need my job back and I will devote my full energy to it.
I wrote nine single author research papers in Patna during 2015-2016, five of which were published in international journals.
A decade ago, I rejected an offer from Canada to join IIT-B. That was a big mistake.
I chose India over Canada, but I had no idea that the weather would be such a serious problem for me.
We have heard you have been approached for a biopic.
A Mumbai-based film director (has approached me). I cannot reveal his name without his permission.
Anything else that you want to share?
People ask why I did not apply to other IITs. I applied to IIT-Delhi, Kanpur and Patna. They rejected me only because I published no research papers during 2009 to 2014.
They completely ignored my excellent PhD research and five papers during 2015 and 2016.
My leave from IIT-B was extraordinary leave without salary, unlike paid medical leave.
Right now, I am planning a campaign for an amendment of the IIT Act.
After November 3, I will campaign more actively.