Since 2014, IIT-B has moved up 71 places in the World University Rankings by QS.
Vinay Umarji reports.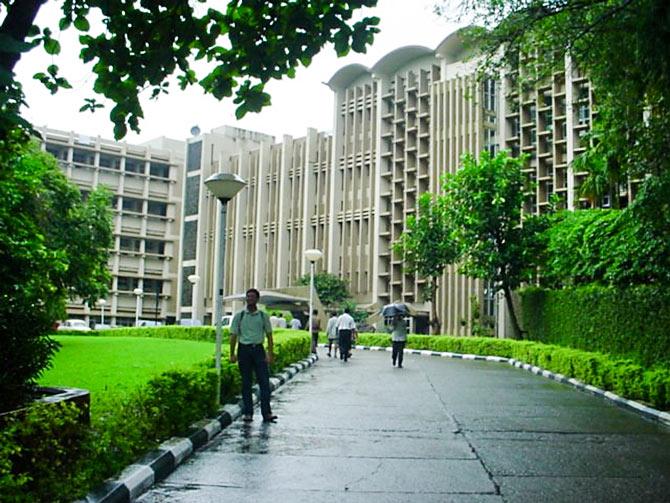 Photograph: Kind courtesy IIT-Bombay
The Indian Institute of Technology-Bombay (IIT-B) has emerged as the top-ranked educational centre from India in the Quacquarelli Symonds (QS) World University Rankings 2019.
As against 179th place in the 2018 rankings, released last year, IIT-B jumped 17 places to 162nd position.
However, it was Indian Institute of Science, Bengaluru, that saw the highest jump among Indian institutes, moving 20 spots up from 190th to 170th position.
Last year's top-ranked Indian institute, IIT-Delhi, remained at the same position of 172nd.
Among the top-ranking Indian institutes in these rankings, IIT-Kanpur, IIT-Kharagpur, IIT-Roorkee and IIT-Guwahati improved from 293 last year to 283, from 308 to 295, from the 431-440 band to 381 and from the 501-550 band to 472nd position, respectively. IIT-Madras remained unchanged at 264th position.
This latest edition of the QS World University Rankings measures the world's top 1,000 universities from the the best of 4,700 institutions that were eligible for inclusion.
"In keeping up with this new higher number, we have also increased the number of institutions receiving a specific rank, by moving the point at which we break into bands from 401+ to 501+," the ranking agency stated.
Around 83,000 academic and 42,000 employer responses went into the analysis for the ranking. The agency gave the highest weightage of 40 per cent to academic reputation.
Employer reputation got 10 per cent, the faculty:student ratio 20 per cent, citations per faculty 20 per cent, international faculty ratio 5 per cent and international student ratio 5 per cent.
IIT-B scored an overall 48.2 of 100. It bagged 52.5 in academic reputation, 72.9 in employer reputation, 54.1 in citation per faculty, 43.3 in faculty student ratio, 4.4 in international faculty and 1.8 in international students, all scores out of a maximum of 100 points.
Among the six parameters, employer reputation was the strongest for IIT-B, with a rank of 93 globally.
Devang Khakhar, director of IIT-B, said, "The faculty and students are striving to excel in education and research. The increase in rank is a reflection of continuous improvement in all spheres of our activity."
Apparently, since 2014, IIT-B has moved up 71 places in the World University Rankings by QS.