The masked, blue gowned and now fogged face shields were highly skilled and capable health care workers -- but inside their protective clothing they were people, with emotions -- sad, fearful, tears pouring down their masks and dripping off the sky blue water repellent gowns.
Even Kevin the hulk, the male nurse who I saw lift a patient single-handedly to place an X-ray plate under the chest, was staring at his foot wear, moved to tears.
Dr Sanjeeth Peter reveals what goes on in a Covid ICU: The second of a heart-wrenching multi-part diary of a Covid Warrior.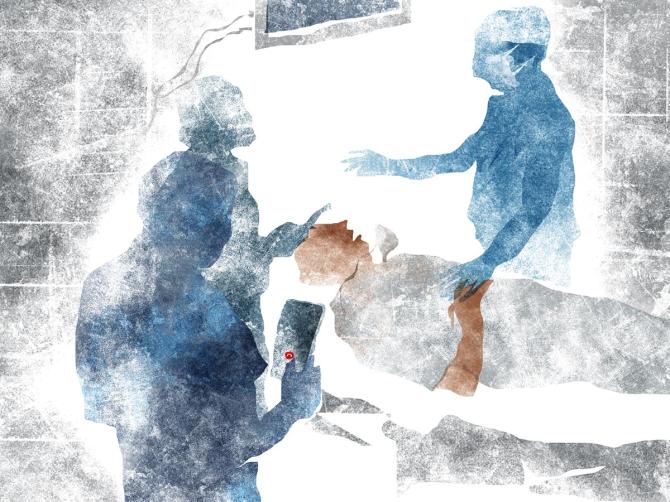 Illustration: Dominic Xavier/Rediff.com
Making my way to a convenient point where to start my rounds, I stopped at Bed No 2.
'32 year old Jignesh*, got admitted this afternoon. Came in with saturations of 58 per cent and had to be put on CPAP. Blood gas report done at 9:00 PM is good. Shall I read it out?' asked one of the blue gowns who took it on herself to accompany me on my rounds.
Reading it out could wait!
My attention was drawn to another blue gown who was standing next to Jignesh.
With deft movements, she quickly eased the CPAP mask by an inch with one hand, picked up the correct combination of rice, dal and sabzi in a spoon with the other hand and gently transferred the contents of the spoon to his hungry mouth.
As soon as he got his spoonful, the CPAP mask went back on and her hand gathered the next morsel.
I learnt then that she had kept his dinner aside to give him later when 'he felt like it'. This went on, till he said he'd had enough. Water was similarly given and the look he gave her explains why we do what we do.
She would've smiled back, but the mask hid it from him.
She was an OPD nurse till a month earlier when the 'All hands on deck' call meant she no longer did the 8 am to 4 pm shift. Her only request was that she not be given evening shifts -- getting back home would not be easy then because the last bus to her village leaves at 7 pm and even after the one-and-a-half hour drive, she would have to walk the last 10 kms home.
She was happy to do the night shift -- leave home by 5:30 pm and get back by 10:30 am.
She couldn't fix an arterial line or even make adjustments to the ventilator settings, but she volunteered with what she had -- concern and empathy! And that is what shone through as she now adjusted the head rest to make Jignesh comfortable through his ICU experience, who, I'm sure didn't feel alone in his ordeal.
Isn't that what 'All hands on deck' is about? Everyone needn't be an expert. There is so much to be done that one would be useful in whatever one is good at.
The person who the face shield, mask and blue gown had shielded from the virus was bubbly Anita* who cheerfully went onto her next task of recording Jignesh's vitals.
She had been working at the hospital for 3 years now. I had seen her and spoken to her almost every day, but only truly got to know her over the past month.
She was one of the 'Gang of 7' who had opened my eyes to what the COVID ICU was doing to them. I had caught them a few days after we converted our sprawling Cardiac ICU to a Covid ICU, huddled in a corner, sobbing and wailing.
They were all new to the ICU, brought in from different areas of the hospital. The trained ICU nurses were in charge and these re-assigned recruits helped.
Six patients had died since the previous day, the number of deaths we see in a year in our Surgical ICU. I had just pronounced the 6th loss.
The night shift staff were handing over to the morning shift personnel. That was when I saw their anguish. Four of them sharing their experiences of the previous night with the three new comers.
'Death entered the ICU'; 'There's so much gloom in the ICU'; 'We did everything possible, but yet ...'; 'I was talking to her when she just collapsed'; 'Kalpit* saw his teen children on the video call last night and this morning we called them to say he is no more!'; 'You trusted us to take care of the patients when you handed over to us. We promised we would.'; 'I can't take it anymore!'; 'This melancholic atmosphere has drained us'.
Their conversations had me extremely worried.
The PPE was doing an admirable job of shielding them from the virus, but was miserably hopeless in barricading their experiences from their emotions.
The masked, blue gowned and now fogged face shields were highly skilled and capable health care workers -- but inside their protective clothing they were people, with emotions -- sad, fearful, tears pouring down their masks and dripping off the sky blue water repellent gowns. Even Kevin* the hulk, the male nurse who I saw lift a patient single-handedly to place an X-ray plate under the chest, was staring at his foot wear, moved to tears.
I learnt that he was preparing for the NCLEX (National Council Licensure Examination -- to be a registered nurse in the US). He put aside his plans, withdrew his resignation because of the 'All Hands on deck' call.
I learnt that Alina*, who by then had sat down, had just been engaged and that her future 'in-laws' passed a fatwa for her not to work with Covid patients. She had counselled them that this is her calling.
Satish* was dumbstruck. He wasn't able to formulate any words. His tears were doing the talking.
'My parents are torn to send me to work -- to face an enemy everyday knowing that I could easily be the next victim', said Jigna*. 'And now I can't even tell them how much death and suffering this virus is causing even in the young'.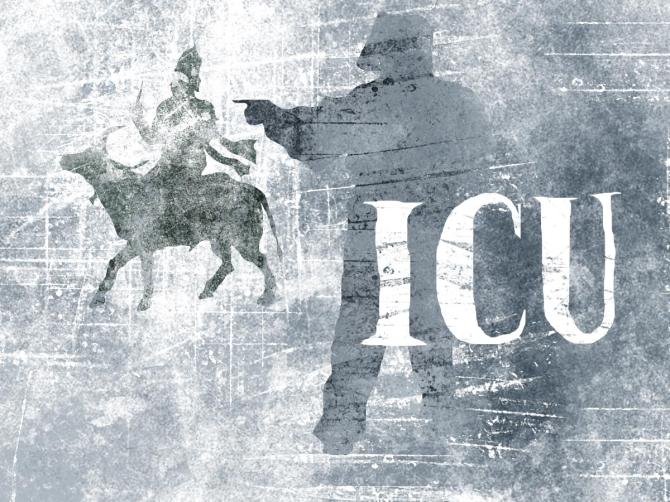 I'm very sure that no 'Standard Operating Procedures for ICU Care' covered this scenario.
I stood with them and let them speak out, pour out their agony to what they saw the dreaded Sars-Cov-2 do. And when there was silence for a few minutes, I told them how it had wreaked havoc in the human body, selecting its victims indiscriminately and leaving us very little to fight with.
It was not their lack of ability. It was the virus. We were all doing our best here. And most importantly, if it were not for them, the others whom the virus had picked to dwell in would also not have a chance to make it back home alive.
We needed to be resilient at this point. 'Remember Yamaraj attacks us even more when we're down', I said.
'We are the shield for the patients and our emotions can't be the chinks in the armour'.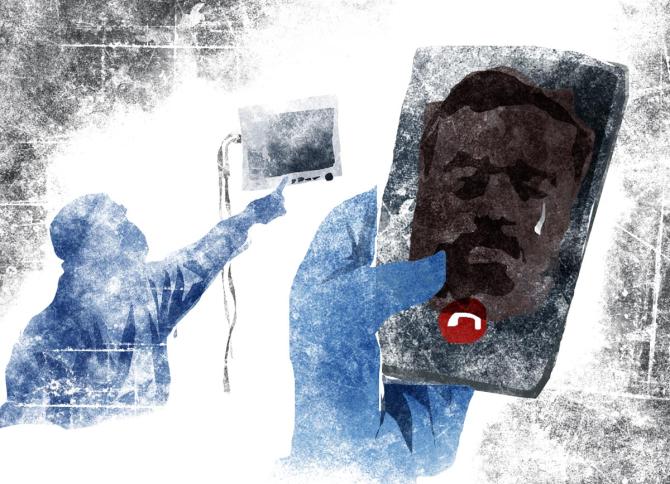 'Servicing' of my armour was on a fortnightly Zoom call that evening with my MBBS batchmates mates from across the globe -- Seattle to Sydney, when we meet for a time of prayer and sharing experiences.
'Don't be harsh on yourselves. Take time off regularly' they had unanimously advised.
'So, shall I read it out?' asked this blue gown standing next to me. She caught me still thinking about Jigna's parents' fears and realising that I empathize with their feelings perfectly.
I looked towards the reason I understood -- my bundle of joy, the apple of my eye, my daughter, who, like all medical officers in our hospital, by just volunteering to put her NEET PG studies on hold and be part of the 'All hands on deck', made my heart swell with joy and pride!
As a parent, I did worry about her (and my son 1,700 kms away - an MBBS intern in a Covid ward), but I also know that this is what she has trained for. Parents all over the world are probably experiencing what I am -- a mix of joy, pride and fear wondering if they are encouraging 'Lambs for slaughter'.
Hiding my emotions from her, I glanced through the reports and decided no adjustments were needed. Just as I reached the next bed, my perfusionist who volunteered as co-ordinator for Covid ICU, spending every day non-stop in the ICU and receiving all the calls for admissions, came running up.
'24 year old. Sats are 45 per cent. Needs an oxygenated bed, but they can't find one. We're full! He's ONLY 24' he said, cupping his hand over his phone.
'Call him in. We'll add a bed.'
When there was a severe shortage of oxygen, we had come up with a unique oxygen conserving mask. Using this, the requirement of oxygen per patient reduced by 50per cent. It was a game changer. That gave us the confidence to even think of adding an oxygenated bed for the 24 yr. old. Several hospitals are now using our innovation.
Continuing with my rounds, I went through the charts, treatment orders and vitals of all the other patients.
Back to Hemant to find that he had woken up and was 'opening his eyes on command'.
'Sedate and paralyse him. Run his labs after 2 hours and inform me.' Turning to Nilesh, our co-ordinator, I asked 'Has the 24 yr old come in?' He could barely manage a whisper.'He didn't make it!' After a moment's silence, I left the ICU well past midnight with a heavy heart.
I showered and changed in the OR changing room before enquiring about the Left Main. With all our patients in safe hands, I reached home for dinner.
*Names have been changed to protect the identity of the individuals referred to in these real life experiences.
Dr Sanjeeth Peter, a cardiac surgeon with 25 years of experience in critical care, is the director and chief cardiac surgeon at the DDMM Heart Institute, Nadiad, Gujarat. He is a volunteer helping care of COVID-19 patients.
Feature Presentation: Ashish Narsale/Rediff.com