'It will be our attempt that in order to get the country out of the condition it is in because of their (the BJP) coming to power, the Congress will go to them (leaders of parties opposed to the BJP) and if there is need for support we shall do so too.'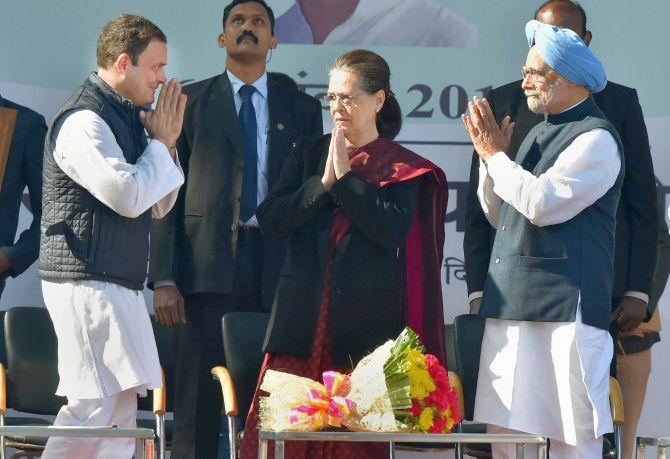 IMAGE: December 16, 2017: Rahul Gandhi greets outgoing Congress president Sonia Gandhi and former PM Dr Manmohan Singh after taking over as Congress president. Photograph: Vijay Verma/PTI Photo
Remember Sheela Bhatt's exclusive interview with Ahmed Patel on Rediff.com?
It was the first time that Patel -- Sonia Gandhi's political secretary -- had spoken at such length, and the interview created tremors in both the Congress party and its rival Bharatiya Janata Party.
You can read it here: 1, 2, 3.
Sheela has since moved from Rediff.com to the NewsX television network, where she spoke to Ahmed Patel after his boss stepped down as Congress president.
We publish the transcript of the interview with kind permission.
Now, please read the final part of the interview:
What worries do you have about the Congress party?
Just that the organisation should be strong and we should come back to power.
Come back to power not because we need power, but because of the way the country is being ruined, we should be able to rectify that.
Change is important and we will put in all our efforts to bring about change and to make the organisation stronger. And Rahulji will work in the same direction.
Don't you feel the Congress is going towards soft Hindutva?
No, it is nothing like that. When someone doesn't go to a temple or a dargah, they say they are not going and when they do go, then people speak on that.
It is not that we are moving towards soft Hindutva. Whichever section of society has faced injustice, Congress leaders have stood by their side.
Ahmedbhai, you have been a leader of the organisation. People said that from 2004 to 2014, for ten years, you had a strong influence and dominated the Congress.
What do you think happened and did not happen...
No, I never dominated Congress. There were other office bearers, general secretaries and heads too. What used to happen was that before Manmohanji and Narasimha Raoji, the PM and the Congress president used to be the same.
It was during Narasimha Raoji and Mahmohan Singh's time that the Congress presidents were different people and the PMs were different. Coordination was perfect.
According to me, the work was going great. But what happened later was that in some states there were some problems with the regional leadership.
When you are not in power or in the Opposition, some people are over ambitious, they are now regional leaders. If you look at the BJP's MPs, there are many who were earlier members of the Congress.
But the Congress has only 44 Lok Sabha MPs. How do you see hope ahead?
The BJP had 2 seats (after the 1984 Lok Sabha election).
But we are talking in today's context.
Today we have 44, we might have 444 the next time.
How?
By hard work, by winning people's hearts, by working for the people...
Tell me about the bigger vision for the Congress.
The Congress's ideology is the vision.
But your ideology confused all of us in Gujarat.
What has confused you? You should see when the results come. The Congress has fought well and I have full faith that we will form the government (this interview was recorded before December 18 when the Gujarat election results were declared).
Do you think the Congress can form a strong organisation along with its allies for the 2019 election?
Rahulji will work in that direction and it will be our attempt that in order to get the country out of the condition it is in because of their (the BJP) coming to power, the Congress will go and speak to them (leaders of parties opposed to the BJP) and if there is need for support we shall do so too.
Who do you think will come along with you? Mamata Banerjee? Naveen Patnaik? Akhilesh Yadav? Mayawati?
It is a hypothetical situation, but I feel these people that you are talking about they would not want that a BJP government should come into power under the leadership of Mr Narendra D Modi or anyone else.
One change we have seen in Modi's leadership is that he has done quite a lot of work to gain the support of voters from the poor sections of society.
They (the BJP) have done nothing apart from misleading them. And whatever they do, they do not think about it before doing. They do it and then they think about it. Whether it is demonetisation or anything else.
But they got votes even after demonetisation.
How they got those is a topic of discussion and we will get to know in the future how they got the votes.
I think you are talking about the EVMs controversy. What is your opinion on it?
See, talking on the grounds of development and then polarising people, is this the right thing to do? I don't want to discuss this, but the discussion will happen in the future. But, what happened in Gujarat?
What did they do?
They felt they were losing and then the PM himself made attempts to polarise people!
What can be worse than that? They vouch that they do politics based on development and righteousness...
But it can be said you also held the hands of Jignesh Mewani, Hardik Patel and Alpesh Thakore, you played the politics of caste.
It is not the politics of caste.
Hardik, Alpesh and others have always said that we will fight for those who face injustice.
Hardik has said this often that I am not fighting only for the Patidars, he said I am doing so for all my young fellows -- all those who are economically backward should get employment. Similarly, Alpesh.
The way the BJP has misled people and if they (Alpesh, Hardik, Jignesh) supported us on this, what is wrong in that?
But this is outsourcing, no?
We sought the support of these young people and they supported us. Two politicians even contested on our ticket. But that doesn't mean we outsourced.
Ultimately, what is the harm in whosoever supports us against the ruling party? The BJP did whatever it felt like in UP and other states, it still did not make an alliance with these people.
In a state like Bihar, they fought against Nitish Kumar. They didn't have any alliance. He (Nitish Kumar) had an alliance with Lalu Prasad Yadav, and now they (the BJP) have him with them.
What are they doing in the North East?
What are the broad issues being brought up in the country before the 2019 election?
Employment is a big thing, then inflation. People want that their incomes and expenditures should match.
If someone's income is 2,000 rupees and expenditure is 4,000, where will they get the money from?
These are the expectations of the people. And the way they (the Modi government) are working, people's expectations won't get fulfilled.
Do you think Rahul Gandhi, before the 2019 election, can bring in a new model on the issues that you have stated?
Will Rahul Gandhi pay more attention to a centrist, right wing or left wing economy?
His actions will be in favour of the country, the common people, the poor and the youth.
That young people should be employed, poor people should rise above the poverty line, people should be able to live peacefully, law and order should be maintained, metro cities should be developed. I guess this will be his strategy.
How will history remember Sonia Gandhi?
She has worked in very difficult circumstances. It was not easy.
She understood the rituals and traditions, the culture, language, politics of this country in a very short time.
After understanding the politics of the Congress and the Opposition, working as a successful president for such a long time is a very big thing.
Is she happy with her career?
Of course, she is. Did you hear her speech?
How do you see your role in making her and being with her?
No, no. She became a successful Congress president through her own hard work, by building relationships with people and with the advice of experienced people.
Will she stay in Delhi or will she go to Shimla?
That's personal. I leave it up to her.
When will Priyankaji come to politics?
I can't say. She herself will decide. The family will decide.