The Congress president inaugurated a photo exhibition commemorating the birth centenary of Indira Gandhi, with more than 200 pictures depicting various events from her life at the historic Swaraj Bhavan where the former prime minister was born.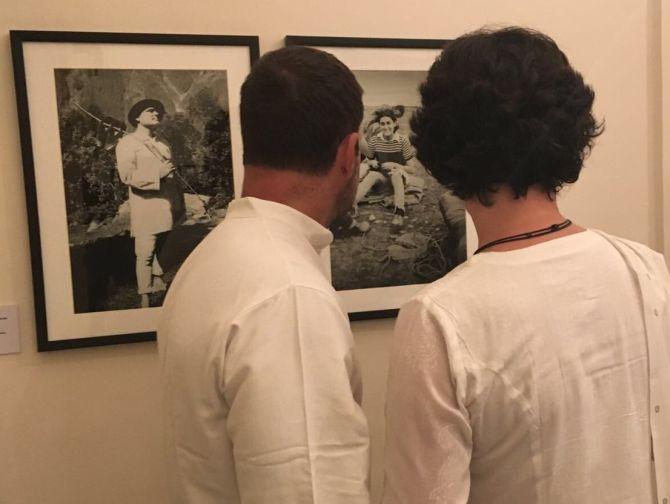 IMAGE: Rahul Gandhi and sister Priyanka Gandhi observe one of the photographs of their grandmother -- Indira Gandhi -- during the exhibition in her honour.
The photograph you see on the wall (right) is a young Indira honeymooning in Kashmir. Photograph: @OfficeofRG/Twitter
Congress president Sonia Gandhi on Monday recalled the sacrifices made by her mother-in-law and former Prime Minister Indira Gandhi for national unity because of which she continued to live in the hearts of people.
Accompanied by children Rahul Gandhi and Priyanka Vadra, the Congress chief, while inaugurating a photo exhibition on the life of Indira Gandhi at the Nehru-Gandhi family's ancestral home in Allahabad, remembered the former PM's courage and compassion and exhorted everyone to draw inspiration from her life that was full of challenges.
"The most important takeaway from this exhibition is the inspiration Indiraji's brave and courageous life gives us…… Courage was her unique quality with which she fought all adversities. We still remember her sacrifices for the sake of national unity. She lives in the hearts of people. We can draw lessons from her glorious life," Sonia Gandhi said at Swaraj Bhavan, where Indira Gandhi was born on November 19, 1917.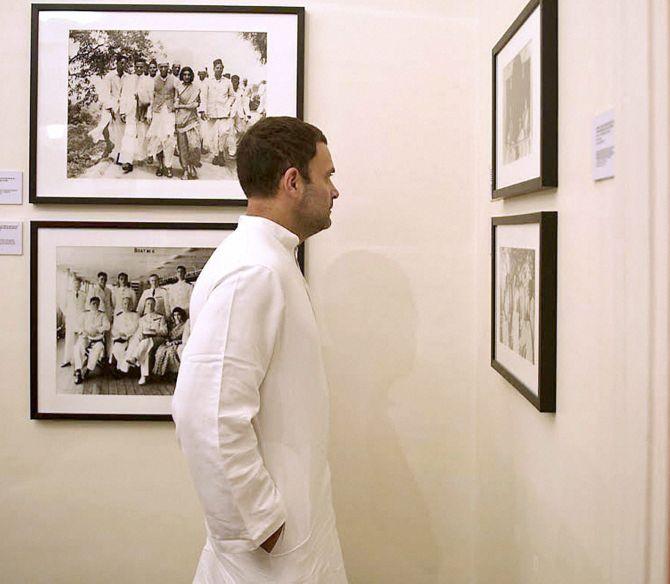 IMAGE: The Congress vice president takes in the exhbition that honours his grandmother for the ocassion of her birth centenary. Photograph: INCIndia/Facebook
On the occasion of the photo show titled, "Indira – A Life of Courage", Sonia Gandhi spoke of the former prime minister's dedication to the cause of national unity and her
struggles against separatist forces.
She told Congress leaders present there that adversities can be overcome.
"Indiraji's life was dedicated to the poor and the underprivileged for whom she took personal pains. She stood by all Indians and believed in India's diversity. She bravely
fought the separatist forces that sought to divide our country. Indiraji loved the people and got their generous support in return," she said.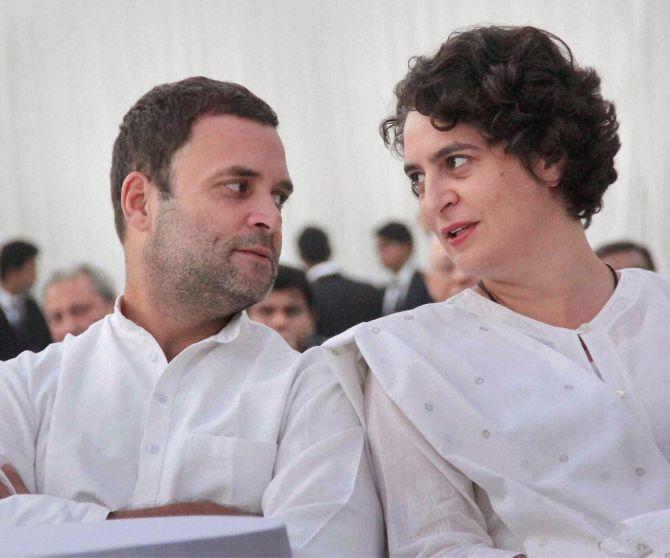 IMAGE: The Gandhi kids talk to each other during the event which was held at their ancestral home. Photograph: PTI Photo
With senior Congress leaders Ghulam Nabi Azad, Sheila Dikshit, Raj Babbar, Pramod Tewari besides family friend and journalist Suman Dubey present, Sonia said Indira Gandhi faced many challenges in her 16 years as prime minister with courage.
"She faced challenges on the economic and foreign policy front, challenges of war and terrorism but was determined in all situations.
"Her concern was that our country should remain united and we should stand on our own feet. She wanted to make India a nation where everyone is safe, a nation in which everyone takes pride," she said as Priyanka sat among the select audience.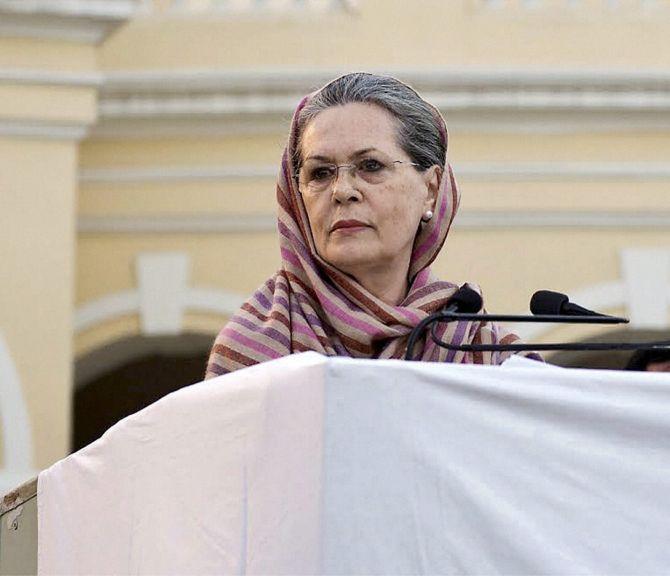 IMAGE: Sonia gave a beautiful tribute to her mother-in-law, saying the former PM's concern was that our country should remain united and we should stand on our own feet. Photograph: PTI Photo
This was Priyanka's first formal public appearance in poll-bound Uttar Pradesh where she is likely to play a major role during the campaigning for the 2017 elections.
Priyanka had recently attended a core committee meeting of UP Congress signalling her readiness to canvass for the party outside of Amethi and Rae Bareilly, Lok Sabha
constituencies represented by her brother Rahul Gandhi and mother respectively.
Her formal appearance in UP was long expected to be at Allahabad and more precisely from her family home where she was present with her mother and brother on Monday.
The photo exhibition, Sonia said, was consciously housed in Swaraj Bhavan which was the place of Indira Gandhi's birth and where she met the leading lights of the freedom movement.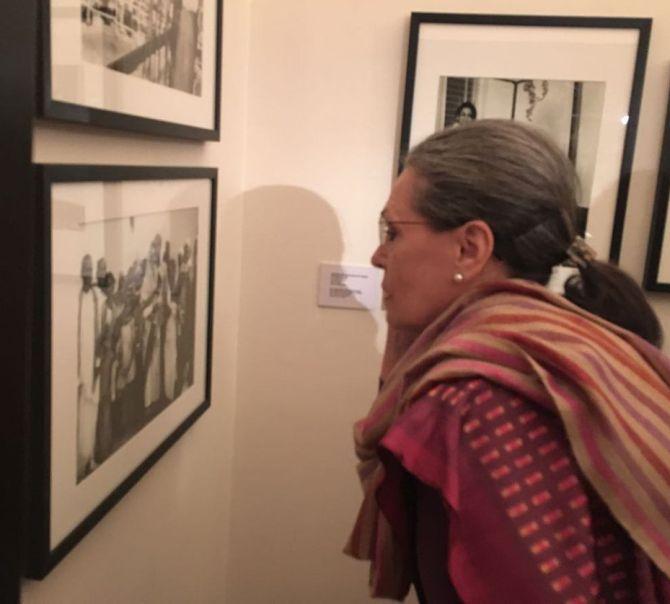 IMAGE: Sonia peers at a photograph of Indira at the exhibition. Photograph: INCIndia/Facebook
The event is part of Congress' commemoration of Indira Gandhi's birth centenary that started November 19.
"It was here at Swaraj Bhavan that Indiraji took her first lessons in politics. Her mortal remains after her martyrdom were also brought here. That's why this exhibition has been opened here. From here it will be taken to other places," said
Sonia who, along with her children, dressed in pure whites, interacted with Congress leaders and workers asking them to prepare hard for the upcoming assembly polls.
Sonia and Priyanka stayed overnight at Swaraj Bhavan, which was recently refurbished.
Congress leaders were keen to get themselves clicked with the Gandhis, who also inquired about them and the preparations ahead.
Rahul also shared his thoughts on demonetisation with Congress leaders present there.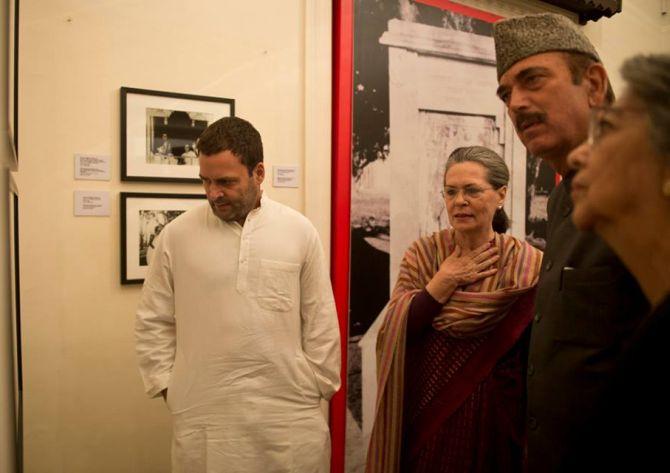 IMAGE: Other than her kids, Congress's senior party leaders also attended the event. Photograph: INCIndia/Facebook
Sonia, 69, who briefly stopped her speech for the 'azaan', also remembered the emotional bond she shared with Indira saying, "Indiraji was not just my mother-in-law. She was like my mother. For 16 years we shared a house and also shared joys, sorrows and emotions."
The Gandhis refrained from making any comments on when Priyanka will formally launch her UP election campaign.
No politics today, was their refrain.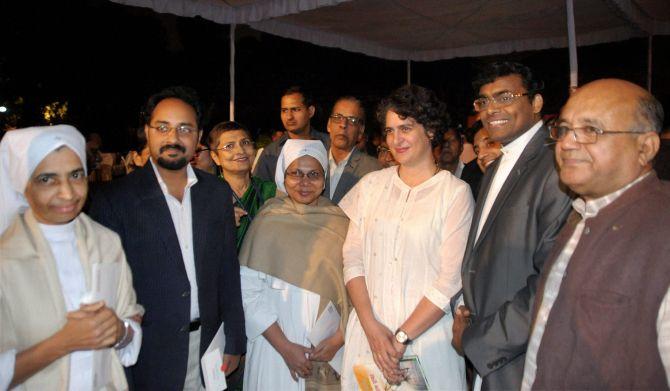 IMAGE: Priyanka Vadra poses for photo with Kamla Nehru Trust workers during the inauguration. Photograph: PTI Photo