'...by combining religious and political missions -- to destroy the Babri Masjid and establish Ram Rajya.'
'Hindutva was successful in creating synergy with the aspirations of devotees,' Dhirendra K Jha, author of Ayodhya: The Dark Night, tells Kanika Datta.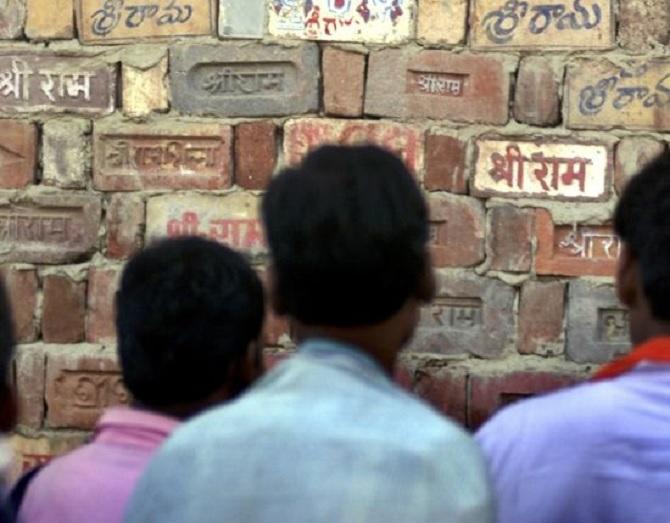 Dhirendra K Jha says he doesn't know much about eating out beyond the Press Club, so could I choose a place, preferably somewhere central?
Mindful of the subject of his latest book, Ascetic Games, an expose of the murky world of sadhus and its connections with right-wing politics, and Narendra Damodardas Modi's expressed aversion to the Westernised elite, I gleefully select The Big Chill Café in Khan Market.
Sadly, my attempt at personal subversion falls flat: Jha says he is unfamiliar with Khan Market's restaurants, but agrees to the venue. At the noisy restaurant, he expresses no interest in the elaborate Hollywood Classics-themed menu either. A cheese sandwich and cappuccino will do, he says indifferently.
Naturally, The Big Chill Café does not produce something so mundane, so cheese and tomato panini it has to be. Regretfully eschewing the opportunity to dig into lamb chops, I select a tuna melt sandwich and black coffee.
Jha, rail-thin and so low key it is hard to believe he is an important commentator on right-wing politics, has been a careful chronicler of the Hindutva project, putting in the slog of exhaustive ground reporting to write two well-received books.
Ayodhya: The Dark Night, co-authored with journalist Krishna Jha in 2012, remains the go-to, much-quoted text every time the Babri Masjid controversy rears its head. Shadow Armies: Fringe Organisations and Foot Soldiers of Hindutva, published in 2017, traces the rise of Hindutva's semi-lawless para-organisations.
Ascetic Games: Sadhus, Akharas and the Making of the Hindutva Vote published in April, focuses on a less publicised aspect of the Hindutva universe. The sadhus's world is, to quote Jha in the introduction, 'not... formed by the spiritual strengths of its ascetics but one formed by the brute force of syndicates of armed sadhus who fight among themselves -- sometimes even engaging in open battles -- for wealth and power.'
This profane world of murder, forgery and related criminality that flourishes under the veil of spirituality merges seamlessly with the 'business end of things, the State and the openly communalist Hindu Right'.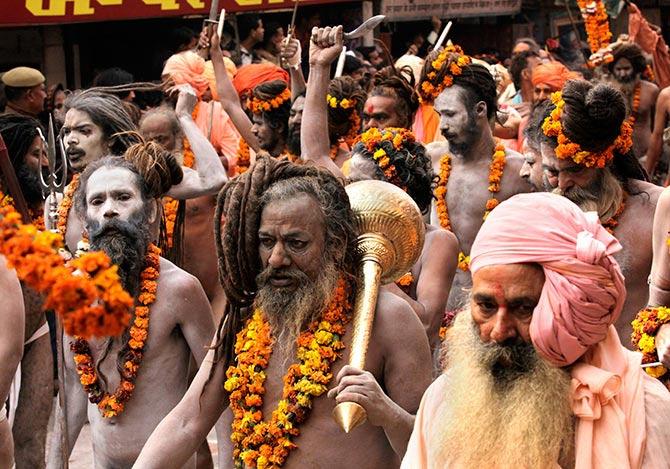 The somewhat menacing bohemianism that is routinely on display for the world press at the Kumbh is central to their MO. Most people assume that these sadhus return to lives of devout ascetic contemplation afterwards, so Jha's revelations are eye-opening.
He describes how he came to write this book in the introduction. He and Krishna Jha were returning from a visit to Ayodhya while researching The Dark Night to trace how the sadhu Abihiram Das, a resident of Hanumangarhi, seat of one of the powerful Vaishnav akharas (or order), planted the idol of Ram on that fateful night of December 22, 1949.
Outside the temple, he witnessed a group of sadhus viciously assaulting an elderly man while policemen nearby feigned disinterest and a small crowd watched, but did not intervene. The man, a flower vendor for the temple, had been unable to pay rent for the past two months so the sadhus of Hanumangarhi decided to teach him a lesson.
"This blatant display of violence by supposed ascetics was the first interaction with these people and forced me to examine it more closely," he says. Once he finished The Dark Night, he started to try entering that world.
By ideology, Jha is leftist -- a paid-up member of the All India Students Federation in his student days "but Delhi University, not JNU," he laughingly clarifies -- and an atheist and his books suggest that he is no fan of Hindu nationalism.
So how did he gain such access to these sadhus? "I had to assume a different kind of identity most of the time," he admits with a guilty grin. His credentials as a Maithil Brahmin from Darbhanga in northern Bihar proved useful in gaining access to Hanumangarhi, for instance.
"Abhiram Das happened to be a Maithil Brahmin, and one of his disciples, who was the main priest in the makeshift Ram temple, gave me the name of his village, Rarhi. I found three villages of that name: One in Samastipur and two in Darbhanga. The last one was actually Das's home, where I located his youngest brother who was still alive. This gave me an advantage."
Later, he went to Haridwar, the main centre for the Shaiva akharas, which is heavily influenced by the Rashtriya Swayamsevak Sangh. "They helped because I told them I wanted to write about the Sangh mahatmas. I gave them the impression that I would make them world famous. Becoming famous is very important for these sadhus because it brings them followers, money and so on. So that is when they started revealing things to me."
But didn't they read his writing, I ask incredulously as the food arrives with disconcerting promptness. He shakes his head. "They don't read, even today. But the RSS guys have started reading me now so I am finding things a bit difficult..." he trails off as he doubtfully eyes the outsized sandwich oozing gooey cheese.
A fork and knife are ineffective against the thick untoasted bread so I suggest he simply use his fingers as I was doing with the giant tuna melt. All the same, he admits, reporting in the Hindutva heartland is a risky business, which is why he never gives on-camera interviews and has a Twitter handle only to follow what others are saying.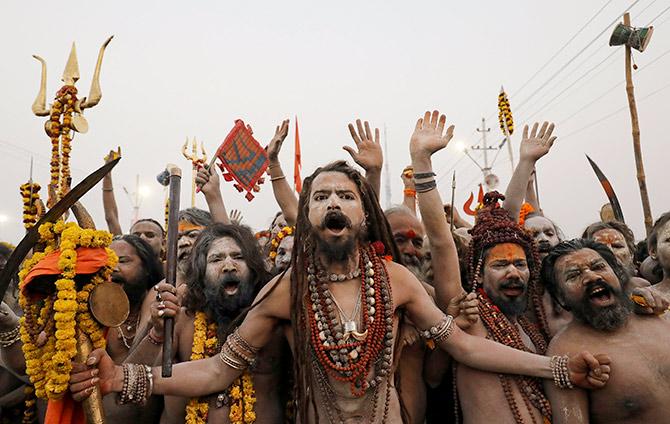 As he manfully tackles the panini, I ask him about the political mobilisation for Hindutva. In The Dark Night, he and his co-author recount how an attempt to hold a Sita Kirtan as a build-up to installing the Ram idol in the Babri Masjid flopped because devotees were uninterested.
How did Hindutva become such a fervent political movement just four decades later? The choice of Ram as a symbol of Hindutva politics changed everything: "It is very difficult for political organisations to attract people on the basis of religion," he says, "so they chose this deity carefully by combining religious and political missions -- to destroy the Babri Masjid and establish Ram Rajya."
"Hindutva was successful in creating synergy with the aspirations of the devotees."
How come devotees aren't repelled by the sadhus's criminality which is so openly manifest? Blind faith is one obvious explanation, of course, but the kind of "ascetic cover" these sadhus use prevent believers from seeing through them, he points out.
"The most important technique is the way the Kumbh is staged" -- an interesting verb to use. "It's just a kind of drama, you know," he says, urging me to go to see "madness in the name of religion".
Jha, having managed a couple of bites, abandons the panini -- "I don't generally eat this kind of thing," he explains apologetically. I am embarrassed because I have wolfed down my sandwich. He declines a more edible substitute so we order more coffee as he explains why the sadhu network and its money-making empires is steadily expanding and consolidating.
"The RSS cadres have become the recruiting ground for sadhus. See, a pracharak gives up everything. He does not marry, is cut off from his family, gives his whole life to the RSS, work in close association with religion and in constant touch with sadhus."
As they start ageing, they can't go back home because they haven't earned anything. So they have two options. One, join politics but few people can do that. For the majority sadhu-dom is the only fallback.
"When they enter then they use their connections to leverage their position and become part of that establishment," he says.
One collateral revelation from Ascetic Games is the fact that sadhus may be unmarried, but hardly celibate, preying on the large cohorts of destitute women to be seen everywhere in India.
One consequence of this is the presence in key temple towns of sizeable numbers of abandoned women. Male children are usually adopted by the mahants, but girls fall prey to the same cycle of forced prostitution as their mothers. Their condition is worse than the widows of Vrindavan.
That should be his next book, I suggest as the bill arrives. But he says his immediate project is a study of RSS activities around independence and how Gandhi countered the movement. Pragya Thakur's recent campaign bloopers suggest that this is a timely subject if there ever was one.